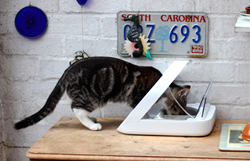 According to independent research we commissioned, these automatically opening and closing feeders will lock in 99.8% of a wet cat food moisture preventing it from drying out for up to 12 hours or more
Clearwater, FL (PRWEB) December 02, 2016
The holiday season is fast approaching and with it comes the dilemma of choosing the perfect gift. If the list includes cat lovers then SureFlap has a pair of feeders, including the new Surefeed Sealed Pet Bowl, that keep food fresh longer making cats and their owners happy.
"Cats tend to be grazers who like to eat small portions throughout the day," says Piers Hampson, Marketing Director for SureFlap. "The problem is that wet food dries up, making it unappealing to cats and expensive for owners who end up throwing food out. We have solved this problem with feeders that automatically open and close sealing in freshness."
SureFlap offers two different feeders. The first is the new SureFeed Sealed Pet Bowl (MSRP $69.99) which is designed, primarily, for the home with only one pet. When a cat approaches this feeder a motion sensor automatically opens the bowl. Once the pet has finished eating, the bowl closes creating an airtight seal that keeps food fresh and moist until the next time the cat approaches. This seal also helps prevent odors and keeps flies out. The quiet mechanism will not distract or scare pets and it automatically detects obstructions when closing.
SureFlap's second feeder is the SureFeed Microchip Pet Feeder (MSRP $149.99), designed for households with many pets. When a cat approaches this feeder it is identified by either the pet's imbedded identification microchip or a SureFlap RFID collar tag. When the cat has been recognized, the lid covering the feeding bowl opens and remains open until the pet leaves (at which time it closes), making it impossible for other cats or dogs (or even curious toddlers!) to gain entry. The feeder's tight seal prevents the loss of moisture ensuring food will remain fresh for twelve hours or more.
The SureFeed Microchip Pet Feeder is easily programmed for individual cat recognition and also has a helpful training mode making it simple to introduce into your cat's routine. You can customize the feeder with different colored mats and bowls - so both you and your cats can easily recognize the difference between feeders (both can be removed for cleaning). Both feeders are battery powered and will operate for up to six months on four C cell batteries.
"According to independent research we commissioned, these automatically opening and closing feeders will lock in 99.8% of a wet cat food moisture preventing it from drying out for up to 12 hours or more," added Hampson. "This not only makes your cat happier, it also can save you as much as $175 a year in wasted food. Happy cats, happy owners, what a great gift."
For more information about these feeders please visit the website at http://www.sureflap.com/en-us.