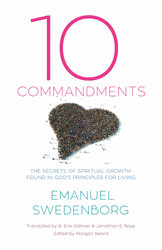 "Obeying the commandments purifies our inner being, opens up heaven, and allows the Lord to come in. With respect to our spirit it makes us an angel of heaven." -- Emanuel Swedenborg, Revelation Explained 902:6
West Chester, PA (PRWEB) December 06, 2016
The Swedenborg Foundation's newest title "Ten Commandments: The Secrets of Spiritual Growth Found in God's Principles for Living" is now available, marking the first time four of Emanuel Swedenborg's major commentaries on the subject will be available in a single volume. This special compilation will allow readers to compare and contrast Swedenborg's unique spiritual interpretation of the Bible's passages on the Ten Commandments across a seventeen-year span.
Although Swedenborg wrote about the Ten Commandments in many places throughout his writings, his most complete commentaries on the subject appear in four separate volumes: "Secrets of Heaven" (volume 7, published in 1754), "True Christianity" (1771), the short work "Life"(1763), and the posthumously published "Revelation Unveiled"/"Apocalypse Explained" (1758–1759).
Although many authors and institutions have interpreted the Ten Commandments, this book offers new and unique insights for spiritual seekers and students of Swedenborg alike because it requires readers to open their souls to the deeper lessons that can be found within the literal words of God's commandments in a way that will lead to profound personal and spiritual growth.
"Ten Commandments: The Secrets of Spiritual Growth Found in God's Principles for Living" is available in paperback for $9.95 or e-book for $1.
Author: Emanuel Swedenborg (1688-1772) was a distinguished Swedish scientist and nobleman who later dedicated his life to investigating the mysteries of the soul. He began to have visions of the spiritual realm that resulted in a stream of books about the nature of God, heaven and hell, and the inner meaning of the Bible. He devoted the last decades of his life to studying Scripture and sharing his own unique philosophies about this life and the afterlife with the world.
Translator: George F. Dole holds a BA from Yale, an MA from Oxford, and a PhD from Harvard. Now professor emeritus, Dr. Dole taught ancient languages, the Bible, and theology at the Swedenborg School of Religion in Newtown, Massachusetts.
Translator: B. Erikson Odhner is director of studies at the Academy of the New Church Secondary Schools. Since 1978 he has edited Latin editions of the works of Emanuel Swedenborg, translated those works into English, and edited the translations of others.
Translator: Jonathan S. Rose is the series editor of the New Century Edition of the Works of Emanuel Swedenborg. Holder of a BA and an MDiv in religion and an MA and a PhD in Latin, he has worked for years in the study of Neo-Latin and in Swedenborgian research.
About the Swedenborg Foundation
The Swedenborg Foundation is a 501(c)(3) nonprofit, independent, educational organization that explores faith and spirituality based on the prolific writings left behind by eighteenth-century spiritual explorer Emanuel Swedenborg. In addition to book publishing, the Foundation also produces a highly-rated weekly webcast called "Swedenborg and Life" on the offTheLeftEye YouTube channel and generates content for multiple social media communities and two blogs for spiritual seekers and academic scholars.