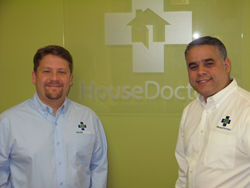 House Doctors of North Houston is focused on providing professional home improvement and repair services with a primary focus on customer service.
Houston, TX (PRWEB) November 30, 2016
When David Vidal and Nerio Ortigoza decided they wanted to go into business together, they knew it had to be something that spoke to their passion for service and the needs of the community. Now the two are excited to announce the launch of their new company, House Doctors of North Houston.
House Doctors of North Houston offers professional handyman services in Houston, The Woodlands, Magnolia, Conroe, Spring, Tomball, Oak Ridge, Shenandoah, Panther Creek and Decker Prairie. The team at House Doctors is focused on professionalism, service excellence and quality workmanship. Their goal is to make home improvements easier for their customers by being on time, doing the job right and offering a one year workmanship guarantee.
"House Doctors of North Houston is focused on providing professional home improvement and repair services with a primary focus on customer service. We're building a team we trust to help us provide each and every customer with a positive experience and, if you ever have concerns, we live here in Houston and you can reach out to us directly," Ortigoza said. "This region is in need of a high-quality, professional handyman company people can trust to be on time, reliable and skilled and we're excited to fill that niche. Our team will treat your home the way we'd treat our home and go above and beyond to ensure that you're happy with the work."
House Doctors' experienced, insured, background checked and uniformed handymen technicians specialize in projects that take two hours to two days to complete, such as light remodeling and repairs of decks, doors, bathrooms and kitchens; repairing drywall; painting; exterior repairs; making home modifications and much more.
Vidal and Ortigoza started looking at local business opportunities about a year ago. After a lot of franchising research and community evaluation, they decided House Doctors was a perfect fit.
"So many people are worried about hiring contractors to work on their home – it's an extremely stressful situation. House Doctors is a local business and Nerio and I are here in Houston if you ever have concerns, but we're also backed by a national corporation with the support of a team of other House Doctors owners from around the country. That translates into a better experience for our clients," Vidal said.
"Nerio and I bring extensive backgrounds in international business to House Doctors and we're looking forward to using that experience to manage and operate a business that serves a diverse group of people in a great community," Vidal added.
To learn more about House Doctors of North Houston, call (346)777-9500 or (346)777-9508, email CSR543(at)HouseDoctors(dot)com or visit http://housedoctors.com/handyman-northhouston.
About House Doctors
House Doctors Handyman Service has been helping homeowners across the United States with home repair and light remodeling projects for more than 20 years. Our friendly, insured and bonded craftsmen are scheduled to be there on time and are committed to complete customer satisfaction. Each of our technicians are experienced in home maintenance, product installations and a variety of home improvements. We're so confident in our team and products that every job we perform comes with a one-year guarantee.