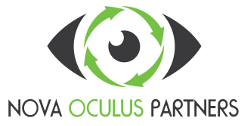 (PRWEB) December 01, 2016
Nova Oculus Partners and StarFish Medical are announcing a collaborative agreement to bring to market a pioneering medical device for the treatment of Age-Related Macular Degeneration.
The agreement makes StarFish responsible for the development and manufacturing of the Nova Oculus headset, an integral component of the electrotherapeutic medical device Nova Oculus has designed to treat AMD patients. StarFish, a Canadian company, is one of North America's leaders in the design, development and manufacture of medical devices.
Nova Oculus Partners COO Walter O'Rourke noted StarFish is the right partner in this endeavor for a number of reasons. They have earned ISO-13485 certification from the International Organization of Standardization, which means the headsets' manufacturing process has been approved for quality, safety and efficiency. StarFish also has the comparable Canadian designation, a critical step since Canada will be the first market in which the Nova Oculus device is expected to achieve full commercialization. "Canada is also an excellent base to ship our products to companies around the world," said O'Rourke.
Mass production of the device by StarFish is slated to begin in the spring of 2017. Company officials expect that once ISO certification for the device itself is granted, regulatory approval in Canada is finalized, and CE Mark approval for the European market is given, gaining access to other international markets will follow.
The Nova Oculus device is already engaged in clinical patient trials in Canada, and regulatory approval for full market commercialization is expected there by mid-2017.
StarFish also meets all the manufacturing protocols required by the U.S. Food and Drug Administration, O'Rourke said, and also has a track record for manufacturing FDA-approved devices for sale in the U.S.
It is estimated that more than 40 million people in the U.S., Canada, Britain, the EU, Japan and Australia are afflicted with AMD, and are either blind or at risk for becoming blind. As many as four million of those could be treated by the Nova Oculus device within the first five years after commercialization. According to the company's calculations, a potential market of that size could conservatively represent $500 million in revenue from treatments and equipment leases during that time.
About Nova Oculus Partners:
Nova Oculus Partners, LLC was formed to develop, manufacture, and lease to medical professionals an electrotherapeutic medical device to treat visual disease, providing a pulsed micro-current output delivered to the retina by way of a closed eyelid. This treatment method can help mitigate the effects of age-related macular degeneration and diabetic retinopathy.
The Nova Oculus company's pulsed micro-current therapy represents a new, non-invasive treatment for all forms of macular degeneration. The device output signal is structured to provide a range and pattern of frequencies to stimulate the desired physiologic response at the retinal level. This low current has been shown by studies to stimulate the production of the active transport enzyme, adenosine triphosphate ("ATP"), which facilitates the movement of nutrition from the blood to the cell
According to recent studies, this treatment improves permeability of the blood vessel membranes and cells, allows better oxygen and nutrition delivery to the cells, metabolism, and removal of by-products from the cells. Through these mechanisms, pulsed micro-current therapy improves retinal pigment epithelium ("RPE") efficiency and in so doing may restore and/or improve retinal function.
About StarFish Medical:
StarFish Medical, Canada's largest medical design, development and contract-manufacturing company, was founded by Scott Phillips in 1999. Headquartered in Victoria, British Columbia, the company employs more than 100 people.
StarFish-assisted patents span over 150 cardiovascular, digital health, IVD, ophthalmology, optics, and ultrasound medical devices.
Atypical in the service-provider industry, StarFish Medical delivers highly innovative projects at a fixed price. Through rigorous use of innovation design-control systems, the company was on budget an average of 100% of the time in 2015. Fixed price agreements help Star- Fish employees and their clients identify and align project expectations and delivery dates.
Employee recruiting and development includes co-op students, summer interns and out- sourcing to a local college. Moreover, StarFish leaders and engineers speak to classes, and at career events and student groups, at colleges and universities across North America.
StarFish also supports several local and province-wide charities and has won a variety of industry awards.
For more information contact:
Mike Camplin,
Director, Marketing,
mcamplin(at)starfishmedical(dot)com
250-388-3537, ext. 210