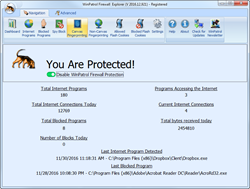 Having a simple way to see what programs are accessing the internet lets user see instantly if there is anything out of sorts helping them identify potential problems
Largo, FL (PRWEB) December 01, 2016
WinPatrol, the only solution that protects against malware and zero day attacks, today announced a new pro-active dashboard with new and enhanced features for its WinPatrol Firewall.
WinPatrol Firewall has been referred to by our customers as the "easiest personal firewall in the world" and has blocked hundreds of thousands of malware infections for our customers before they happened. It leverages product whitelisting to prevent unknown programs from using the Internet. If an unknown program tries to breach your security, it is blocked before it can talk to the Internet.
The new dashboard shows real time internet usage statistics including:

the number of programs accessing the Internet
the number of current Internet connections
connections for the day
the last programs that either accessed or were blocked from Internet access
"Having a simple way to see what programs are accessing the internet lets user see instantly if there is anything out of sorts helping them identify potential problems," said Bret Lowry, CEO of WinPatrol. "It also will allow them to turn off programs not being utilized to improve system performance."
This update brings the balance of items from tray icon menu to your finger-tips by making them directly available on the WinPatrol Firewall dashboard. You can stop/start WinPatrol Firewall Protection from the Dashboard. In addition, WinPatrol Firewall's performance was enhanced to ensure it does not slow down your computer while providing you with world class protection preventing unknown programs accessing the Internet.
Pricing and availability
WinPatrol Firewall is available for $14.95 for a single user license, $19.95 for a three user license, and $24.95 for a five user license per year. Lifetime licenses are currently available for a limited time. Products are available at https://www.winpatrol.com/products/#winprivacy or at better resellers worldwide.
About WinPatrol
With more than two million happy customers worldwide, WinPatrol is disrupting the market with a first of its kind artificial intelligence (AI) engine to provide real time monitoring of a computer system as programs execute. WinPatrol's Windows Anti-Ransomware solution (WinPatrol WAR) works similarly to an immunization, providing a dose of good malware that detects the behaviors of nefarious malware and ransomware. If a program takes malicious action (typical of malware), it is blocked. This action prevents ransomware from encrypting the computer system, making it the only solution that defends against zero day attacks. The WinPatrol Firewall, the easiest personal firewall in the world, leverages innovative whitelisting technology to block unknown programs from talking to the Internet. The WinPatrol PLUS host intrusion prevention system protects and manages start-up programs, tasks, file type associations, and more that Windows fails to make easily manageable. Individual and multi-product bundles are available for both consumer and business customers. http://www.winpatrol.com