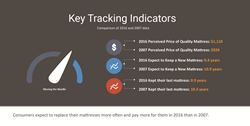 This research updates ISPA members' understanding of current consumer needs and concerns, and helps the BSC set priorities and identify newsworthy findings that will help it promote mattresses and sleep
Alexandria, VA (PRWEB) December 02, 2016
The Better Sleep Council (BSC), the consumer-education arm of the International Sleep Products Association (ISPA), has released a study that explores key motivations of today's mattress shopper. The study uncovered changes in bedding-shopping behavior, including shorter replacement cycles, an expectation of higher ticket prices and the influence of technological trends on research and purchasing habits.
For the first time, consumers' expectations for how long a mattress should last have dropped below 10 years. This is good news for consumers. A shorter mattress replacement cycle means they can take better advantage of new component technologies and advancements in construction techniques. They can benefit by enjoying mattresses that offer different levels of comfort and support as their bodies change and age.
"This research updates ISPA members' understanding of current consumer needs and concerns, and helps the BSC set priorities and identify newsworthy findings that will help it promote mattresses and sleep," said Ryan Trainer, ISPA president.
Key study findings include:

Mattress Replacement Cycle—Consumers no longer presume their mattress will last more than a decade (Consumers now expect to keep a new mattress, on average, for 9.4 years—a drop of about 1½ years from the 10.9 years cited by consumers the last time ISPA conducted such research in 2007).
Mattress Preferences/Replacement Triggers—The best indicator of when to replace a mattress isn't that it hits an arbitrary major milestone birthday (15 or 20 years), but when consumers find it no longer offers a comfortable, restful night's sleep.
Pricing—Today's shopper expects to spend more on a new bed set. BSC research reveals that consumers expect a new mattress to cost more, on average they say, $1,110—a significantly higher price point than the $929 from 2007.
Retail Experience—Consumers are spending more time researching their purchase. Seventeen percent of respondents report spending one or two days researching and browsing pre-purchase, while a full 50% spend from three days to two weeks gathering information before buying.
Study findings include interesting generational, gender-based and socioeconomic differences when it comes to the mattress-replacement cycle. Younger consumers (ages 18 to 35) both expect to replace and actually do replace their mattresses in more compressed cycles than their older peers—perhaps because they are experiencing life changes, such as graduations, marriages, the births of children and first-home purchases—more rapidly than older consumers.
Also, younger consumers, accustomed to replacing products like smartphones every couple of years, may be more attuned to the need to buy consumer products more often to enjoy the benefits of new technological advancements.
When asked, "How many years would you expect to keep a new quality mattress?", those ages 18 to 35 responded 6.6 years, on average. In contrast, respondents 36 to 55 expect to keep a new mattress 9.1 years, while those 56 and older say they hope to get 11.6 years out of a new bed.
Women hold onto their mattresses longer than their male peers. According to the research, women kept their previous mattress 9.6 years, on average, before replacing it, while men slept on their mattress only eight years before buying a new one. Replacement-cycle expectations also vary by income level, with those earning less generally expecting beds to last longer and, in practice, holding onto theirs longer than their higher earning peers.
The multipart study was conducted by New York-based Fluent Research, with more than 2,000 consumer respondents, and included qualitative and quantitative phases.
"This research demonstrates just how much consumers' attitudes and perceptions have changed in recent years," said Mary Helen Rogers, ISPA vice president of membership and communications. "The research included additional questions regarding how consumers link sleep to their overall wellbeing, factors that motivate or deter them from replacing their mattresses, and insights into other purchasing behaviors."
The BSC encourages consumers to evaluate the condition of their sleep set—and the quality of their own sleep—every five to seven years.
To read a full analysis of the BSC's 2016 consumer research study, see the December 2016 issue of BedTimes magazine or visit BedTimesMagazine.com.
View here to access findings from research.
For more information on the BSC, visit http://www.bettersleep.org.
About the Better Sleep Council: Established in 1979, the Better Sleep Council (BSC) is the consumer-education arm of the International Sleep Products Association (ISPA). The BSC is devoted to educating the public about the important relationship between sleep, good health and quality of life, as well as the value of the sleep system and sleep environment in pursuit of a good night's sleep.
xxx