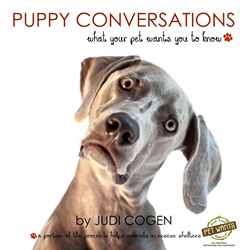 Puppy Conversations is a fun, light-hearted read we know pet owners everywhere will enjoy. Pet Wants is proud to have sponsored the book and excited that our franchise owners will be able to offer it in their local communities... Rick Billups
Cincinnati, OH (PRWEB) November 30, 2016
Ever have a conversation with your pet? Whether they're sitting on your keyboard while you're trying to answer work emails or they've eaten something you can't quite place, the sideways look they give you always begs one question – what are they thinking?
Pet Wants is proud to announce they're sponsoring the release of a new book that puts into words the conversations we've all had with our pets. Puppy Conversations, written by Judi Cogen, will be sold through Pet Wants franchisees around the country for a suggested retail price of $20 and 15 percent of the proceeds from book sales will be donated to local animal rescues.
"Puppy Conversations is a fun, light-hearted read we know pet owners everywhere will enjoy. Pet Wants is proud to have sponsored the book and excited that our franchise owners will be able to offer it in their local communities to help raise money for animal rescues around the country," Pet Wants President Rick Billups said.
Cogen, who also happens to be a recent addition to the Pet Wants corporate team, said releasing Puppy Conversations and donating some of the proceeds is directly in line with the Pet Wants mission to give back.
"Our company, our franchisees and our Pet Wants clients care deeply about their pets and the well-being of animals. We feel it's important for Pet Wants to have a way to give back and supporting local animal rescues is something we're passionate about. I wrote Puppy Conversations as part of a blog for my son – Dear Kid, Love Mom – and the project blossomed from there," Cogen said.
"My family's dog is 11 – although he'll always be our puppy – and I love thinking about how he sees the world. Like many pet families, we have conversations with the dog and it's fun to think about what he'd say back. That's the basis of Puppy Conversations – and it will make you smile," she added.
Pet Wants originally launched in Cincinnati in 2010. Owned by Michele Hobbs, the business was built to provide proprietary crafted, fresh, slow-cooked, all-natural pet food delivered to customers through a retail store and a convenient home-delivery service. Hobbs, now the company founder, turned the business into a franchise in 2015 and more than 50 franchises were sold in less than a year. There are now nearly 60 active Pet Wants franchises throughout the United States – from Portland to Palm Beach and Austin to Annapolis.
Pet Wants' carefully developed proprietary pet food is made in small batches once per month so every kibble is guaranteed to be fresh and packed with nutrition. There's no sugar added, no fillers and no animal by-products. Also, since Pet Wants never uses corn, wheat, soy or dyes, the food is a great fit for pets with allergies and Pet Wants only sources the best salmon, chicken, lamb, brown rice and other ingredients available. Some Pet Wants franchisees have chosen to open a storefront, but all Pet Wants businesses provide free, convenient pet food delivery service to customers.
Curious about Pet Wants? Learn more about our company, our food and our franchising opportunities at http://www.PetWants.com.
About Pet Wants: Pet Wants was started by Michele Hobbs out of love for her pets and frustration. Veterinarians were unable to help relieve her dog's painful skin allergies. After doing much research, Michele discovered the national dog food brand she trusted was not fresh, not all natural, and lacked sufficient nutrition...and when pet food sits in warehouses and store shelves for months and months… it loses even more nutritional value. She was committed to developing a better solution for all dogs and cats. Their food is exclusively crafted… fresh, healthy, slow-cooked and all natural with no sugar added, no fillers and no animal by-products. They source only the best salmon, chicken, lamb, brown rice, and other ingredients. Fresh ingredients make for better food… and better health for pets. And since they never use corn, wheat, soy or dyes, the common pet health problems associated with these ingredients are no longer worries. Their fresh food is conveniently delivered to the customer within weeks of production, not months. Roughly half of Pet Wants products are sold through their store and half through their convenient, home-delivery program. You can learn more at http://www.PetWants.com.