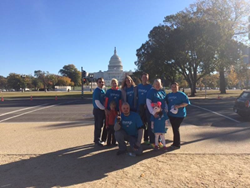 Unanet supports numerous charities and their employees participate in many philanthropic efforts
Dulles, Virginia (PRWEB) November 30, 2016
On November 5th, Unanet employees and their families participated in the Heart Walk in Washington DC. Team Unanet raised over $5,000 to support the American Heart Association, which included fund raising in advance of the Heart Walk and a raffle at their annual Holiday Reception. The Heart Walk is the American Heart Association's premiere event for raising funds to save lives from this country's No. 1 and No. 5 killers - heart disease and stroke.
The American Heart Association is just one of the many organizations that the Unanet family supports through their donation of time or money, and each member of the Unanet team receives two days of leave each year to devote to charitable work.
Unanet supports numerous charities and their employees participate in many philanthropic efforts. Visit Unanet's Charities & Philanthropy page to learn more about their charitable efforts, and their Careers page to learn more about their job openings. Find out what has made Unanet one of The Washington Post's 2016 Top Work Places!
About Unanet:
Unanet is a leading provider of Cloud and On-Premise software for project-based organizations. Unanet delivers a purpose-built Project ERP solution with skills management, resource planning, budgeting & forecasting, time & expense reporting, billing & revenue recognition, project management analytics and dashboards, and integrated financials with AR, AP, GL and cost pool calculations. Over 1,000 organizations trust Unanet to maximize staff utilization, reduce administrative costs by 90%, improve invoicing by 10X, and support forward decision-making for improved operations.