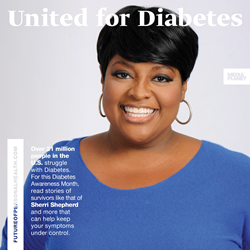 Over 29 million people in the United States alone are living with Diabetes while millions are living with Prediabetes
New York, NY (PRWEB) November 30, 2016
Helping to conclude Diabetes Awareness Month, Mediaplanet today announces the launch of this November's edition of "United for Diabetes." This campaign will advocate for increased awareness for Diabetes, as well as education about best ways to manage the disease.
Over 29 million people in the United States alone are living with Diabetes while millions are living with Prediabetes. Not only does this disease affect blood glucose levels, it causes potentially fatal side effects including diabetic foot ulcers and eye diseases. There has been significant research and medical advancements in this disease that allow for a bright future.
The print component of "United for Diabetes" is distributed within today's edition of USA Today in Chicago, Los Angeles, Chicago, New York, Seattle, and South Florida markets, with a circulation of approximately 250,000 copies and an estimated readership of 750,000. The digital component is distributed nationally, through a vast social media strategy, and across a network of top news sites and partner outlets. To explore the digital version of the campaign, visit the site here.
Type 2 Diabetic Sherri Shepherd is featured on the cover of the print publication. Through Sherri's interview within the campaign, Sherri discusses how both of her sisters have diabetes and her mother passed away from the disease at the age of 41. "I had put off going to the doctor for a long time because I was so scared I would get a diabetes diagnosis," she remembers. "It's almost like I was in denial."
Since Shepherd's diagnosis, she has fought to raise awareness about the disease including co-authoring the book "Plan D" that explains why having Diabetes is not a death sentence. Now, Shepherd works to eat healthy and exercise, keeping her disease in check.
This campaign was made possible with the support of the American Association of Diabetic Educators, the JDRF, Diabetes Research Institute Foundation, Beyond Type 1, One Drop, Emuaid, American Podiatric Medical Association, Sunsweet, Glycomark, Neurogenx, and Mannkind.
About Mediaplanet 
Mediaplanet is the leading independent publisher of content-marketing campaigns covering a variety of topics and industries. We turn consumer interest into action by providing readers with motivational editorial, pairing it with relevant advertisers and distributing it within top newspapers and online platforms around the world.