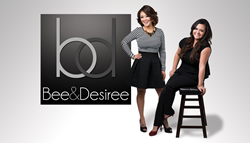 "I think that a lot of people will find working with Bee and Desiree an exciting and different new way to get a mortgage."
Philadelphia, PA (PRWEB) December 01, 2016
New Penn Financial announced today the hiring of Bee Koh http://www.newpennfinancial.com/bkoh and Desiree Estorga http://www.newpennfinancial.com/destorga who will be branch managers at the company's new office in West Covina. Both specialize in creating tech-driven, self-generated leads, which include social media video marketing as a means to strategize open houses with real estate agents. Their hiring is part of New Penn's effort to increase its purchase market share in the Los Angeles area.
"We came to New Penn to create a high-energy, technologically-savvy team that prides itself on excellence, and more specifically, on a high closing ratio," Ms. Koh said. "Lenders get their money from the same places, which means that rates between lenders are typically very close, but the difference with us and with New Penn is the level of personalized service." Ms. Estorga added.
"Bee and Desiree each have over a decade of experience in the lending industry, but in addition to experience, they'll also bring us energy," said Division Manager Gerry Fernandez. "I think that a lot of people will find working with Bee and Desiree an exciting and different new way to get a mortgage."
About New Penn Financial
New Penn Financial® continues to assemble deeply experienced and highly seasoned industry leaders making us one of the fastest growing lenders in the nation. As a direct lender and servicer, we have positioned ourselves to be able to provide loans that serve a variety of scenarios. This allows us to assist more customers while maintaining the highest compliance standards and ensuring great customer service at every stage. Our leadership has successfully and strategically directed their teams to be prosperous during the downs of a challenging economy while capitalizing on the potential of a robust one. This depth of wisdom and focus on quality allows us to innovate with confidence, develop superior products, provide exceptional service and support, and back it up with the kind of solid foundation that is renewing the American Dream, all across the country.