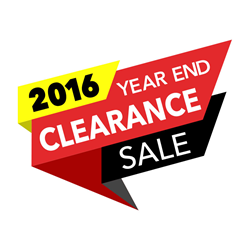 Our customers have given us a great year, but we're not done. There are many great promotions planned for 2017 and clearing out this year's stock gives us room to truly show what we're made of.
(PRWEB) December 15, 2016
The year's nearly over, but the Liquidation Channel's commitment to helping customers save continues with its annual Year-End Clearance Event. Starting Tuesday, December 20, through Saturday, December 31, the LC is providing customers more time to save. With up to 90 percent off on an incredible selection of limited quantity and last in stock items, it will be a great way to provide "after Christmas" gifts, or even plan for next year.
Our Year-End Clearance Event exists to make room for the New Year and new inventory. This 12-day clearance event will be showcasing huge savings and incredible markdowns on hundreds of LC's most popular items, including jewelry, home décor, accessories, and beauty products. It's a great chance for customers to stock up with spectacular savings from the best of 2016.
Liquidation Channel's Director of Sales and Programming, Heather Hamilton, said, "Our customers have given us a great year, but we're not done. There are many great promotions planned for 2017 and clearing out this year's stock gives us room to truly show what we're made of."