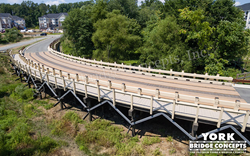 With incredible attention to detail, our staff and myself were always kept informed regarding the schedule and flow of the entire project.
Reisterstown, Maryland (PRWEB) December 06, 2016
Located in Reisterstown, Maryland – only 30 minutes from downtown Baltimore – is York Bridge Concept's latest Timber Vehicular Bridge featured at the Quarry Place Condominiums. Quarry Place, an active adult community in Reisterstown features new condominiums with premium amenities - only a short distance to the Reisterstown Regional Park. The residences of Quarry Place are surrounded by the 31-acres of quarry lake that flourish throughout the development. YBC has partnered with Beazer Homes and Koren Development to design & build another one-of-a-kind Timber Vehicular Bridge spanning 24 feet wide by 152 feet long with a HS27-44 loading capacity.
Utilizing YBC's deck level construction methods, this consecutive 15' repetitive span timber bridge at Quarry Place features stunning architectural features such as winding curves, Textured Polymer surfaced timber traffic lanes on a 4" structural deck and uniquely designed TL-2 glulaminated guide rails to complement the surrounding landscape and structures. YBC distinguishes from the competition by ensuring longevity and aesthetics, combining Polymers with pressure treated timbers to protect the structure from harmful UV rays, extending the service life, increasing safety of the bridge and providing a better return on investment.
"York's Decero™ Design Team researched the rich serpentine history of the mining facilities at Quarry Place and incorporated architectural elements into the design and creation of our York Bridge, a one-of-a-kind masterpiece that has become an icon of this residential development. With incredible attention to detail, our staff and myself were always kept informed regarding the schedule and flow of the entire project," states Jim Roberson, Vice President of Development for Quarry Place. YBC is proud to have completed a stunning structure for such a great community. As the primary focus of the upcoming development, this York Structure enhances the condominiums at Quarry Place and adds lasting value for current and future generations.
About York Bridge Concepts™
York Bridge Concepts, Inc. (YBC) is the nation's largest on-site timber vehicular bridge builder. YBC works with industry-leading owners and developers on prestigious projects throughout the U.S. and internationally, creating more than just a solution for crossing lakes, streams, creeks, wetlands or ravines. In this competitive real estate market, developers who want to ensure that their project stands apart from the competition use York Bridges to add value and create a feeling of exclusivity, warmth, and quality for their customers. Based in Lutz, Florida, with over 31 years of experience, YBC has become well-known for their expertise and cutting-edge innovation in the Longevity and Architectural beauty of timber bridge design.
For more information, contact Gil York at (800) 226-4178 ext. 109 or visit http://www.ybc.com.