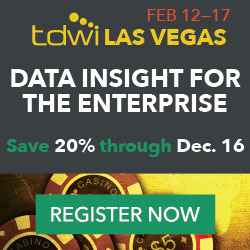 TDWI Las Vegas teaches vital skills from architecture, data management, and data preparation to data analysis, visualization, data storytelling, and more.
Las Vegas, NV (PRWEB) November 30, 2016
WHO:
TDWI (tdwi.org), the leading event source for analytics, big data, and data science training, has announced the tracks and sessions for our 2017 TDWI Las Vegas conference, taking place February 12-17. Our theme for this year is "Data Insight for the Enterprise." For more than 20 years, TDWI has been raising the intelligence of data leaders and their teams with in-depth, easily applied education and research, and an engaged worldwide membership community. More than 90% of the Fortune 100 rely on TDWI for their analytics and data research, education, and training.
WHAT:
TDWI Las Vegas, the leading conference for analytics and data management training, addresses our greatest data challenge head-on—harnessing the power of data and analytics to extract high-value insights that enable faster, smarter business decisions. Analytics requires a team with a spectrum of skills — from architecture, data management, and data preparation to data analysis, visualization, data storytelling, and more.
TDWI Las Vegas features over 50 in-depth, vendor-neutral courses on all things analytic, organized into five thematic tracks: Data and Analytics Foundations, Data Science A to Z, Leading with Data, Managing Data for Analytics Insight, and Data Analysis and Discovery. TDWI Las Vegas builds on the incredible event growth shown by TDWI in 2016 with new sessions created by industry experts on the fastest growing topics IT departments want to know about, including expanded courses on the Internet of Things, predictive analytics and machine learning, and data streaming.
Two special programs will also be offered in Las Vegas during TDWI. The TDWI Leadership Summit focuses on the intersection of business and technical issues facing companies as they adopt and expand their data-centric businesses. The Leadership Summit, curated by TDWI vice president and senior director of research Fern Halper, brings together "those who have done it before" to share their experiences and insights with a select group of business and technical leaders from top companies.
Also, coming off a successful debut at TDWI San Diego, the Data Science Bootcamp will be offered in Las Vegas. The Data Science Bootcamp is an intensive two-day experience that takes students through the skills and knowledge required to start a career as a data scientist. Successful completion of the course earns the student a TDWI Certificate, as well as continuing education credit for the bootcamp.
All TDWI Las Vegas sessions are created and taught by instructors who are experts in both data and analytics, and teaching. Unlike other conferences, TDWI Las Vegas features only full- and half-day courses to ensure sufficient time to learn the topic in depth and ask relevant questions of the instructor.
Finally, the TDWI Exhibit Hall features over 20 leading vendors in big data, analytics, data streaming and data management. Attendees have a chance to see demos of the latest solutions, discuss individual data requirements, and get answers to their questions during dedicated exhibit hours.
WHEN:
February 12-17, 2017
WHERE:
Caesars Palace
3570 South Las Vegas Blvd
Las Vegas, NV 89109
866-227-5938
https://www.caesars.com/caesars-palace/hotel
KEYNOTE:
In his keynote presentation, "The New Literacy: The Skills and Insights You Need in the Information Economy," Donald Farmer of Treehive Strategy looks at the skills necessary in the new world of powerful devices, apps, and data services. In this presentation, Farmer will explore the uses of data literacy in the modern organization, as well as the accompanying potential, pitfalls, and unexpected implications.
The TDWI Exhibit Hall will showcase leading providers of hardware, software, and services for business intelligence, data warehousing, and related technologies.
REGISTER:
Event Website: https://tdwi.org/events/conferences/las-vegas/
Conference attendees who register by December 16, 2016 are eligible for a special discount of up to $915.
FOR THE MEDIA:
Members of the media are invited to cover the event. Interviews with TDWI analysts and spokespeople are available upon request.
Media passes are reserved for press representatives and analysts who can verify that their publication or organization regularly covers data and analytics (including big data, data analytics, Hadoop and other open source data technologies), data warehousing, business intelligence, or related topics. All media are required to provide samples of previous reports covering these topics. Please note: media passes will not be issued to publishers, sales, marketing, advertising, public relations, or technical support staff from any organization.
To apply for a media pass, please send an email to mcarter(at)tdwi(dot)org with the following information: name, title, company, email address, telephone number, dates of attendance, publication/website name (including website URL, link to three articles/blogs/podcasts published in the last three months that cover big data, analytics, or related topics).
###
For more information on the 2017 TDWI events please contact:
Matt Carter
TDWI Vice President of Marketing
Phone: 425-277-9132
mcarter(at)tdwi(dot)org