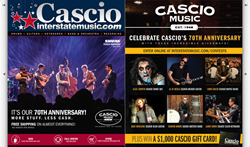 We carry over 75,000 items and most have free shipping during this holiday season ...
New Berlin, Wisconsin (PRWEB) November 30, 2016
Musical instrument retailer Cascio Interstate Music once again provides its list of musician gift ideas for kids, drummers, guitarists, pro audio enthusiasts, and school music students.
"We carry over 75,000 items and most have free shipping during this holiday season," said Michael Houser, CEO. "Our holiday gift list is designed to make it easy for those shopping for musicians, as well as for parents of budding musicians. We have a big variety of musical gifts geared towards kids, inspiring them to play."
Recorder (EM570 (color), $1.99) from Ravel. ABS resin plastic, three-piece construction. Select from solid Ivory, or seven translucent colors.
25-Note Glockenspiel For Kids (RFKGLOCK25, $19.99) from Ravel. The ideal melodic instrument for children to learn basic harmony, 25 notes.
Boomwhacker Power Pack (EN109, $19.99) from Rhythm Band. Great for drum circles and creative music composition. Includes an eight note diatonic set of tuned percussion tubes, two Octavator Caps, audio CD and DVD featuring the world's premier Boomwhacker performance group.
Ukuleles (GTSUK13, $24.99) from Melokia. Wood construction, rosewood fretboard, 13" scale, 20-3/4" length. Four colors.
Airboard Junior (HARHKAIR25, $42.99) from Hohner. 25-note version of the Airboard for kids has a cool style and is easy to play. Includes color note placement stickers.
Mini Keyboard (SYSSA76, $49.99) from Casio. 44 mini keys for smaller fingers! 100 Tones, 50 Rhythms and 10 built-in practice songs. Uses 6 AA-size batteries or optional AD-E95 adapter (ET182ADE9510B, $ 19.99).
UT3 3-Piece Kid's Drum Set (DRSUT3(color), $99) from Union. All-wood drum shells with bass drum, tom, snare and cymbal. Includes drum throne, and mounting hardware. Recommended for ages 3 and up. Available in three colors.
Drummer/Percussionists Gift Ideas:

One Earth Bongo Drums (DRSUB1, $33.97) from Union. 6" and 7" natural hide heads. Two-tone wood shell.
Headliner Birch Cajon (DRSHCAJ100NT, $109.99) from Meinl. Limited edition, solid birch front plate and dual snares.
DD BETA Electronic Drumset (EDRDDBETA, $299, plus free $10 Gift Card with Mail-In Rebate) from ddrum. Streamlined module boasts 100 usable drum kit sounds. 32 pre-set kits. Responsive, single-zone drum pads and dynamic single-zone cymbal pads with choke feature.
Export 5-Piece Drumset with hardware (DRSEXX725S(color), $649, plus free $50 Gift Card with Mail-In Rebate) from Pearl. The legends of tomorrow play Export today. 18x22 BD, 7x10 & 8x12 Toms, 16x16 Floor Tom, 5.5x14 Snare, plus double-braced hardware. Cymbals are not included. Five colors are available.
AAX Limited Edition Performance Cymbal Set w/ FREE 18" X-Plosion Crash Cymbal (CYM25005XXP, $729, plus free $50 Gift Card with Mail-In Rebate) from Sabian. A pair of 14" Stage Hi-Hats (pair), 16" X-Plosion Crash, 20" Stage Ride, and a FREE 18" X-Plosion Crash Cymbal.
Guitar Effect Pedals (various, starting at $39.99) from Gravity, brand new pedals comparable to models costing twice as much. True bypass circuitry.
Artisan Series Ukuleles (GTSARTUKCLS or GTSARTUKIAS, $69.99) from Melokia. Standard size uses with Celtic or Polynesian designs. 13" scale, 20 3/4" total length, 17 frets.
Tubular Tube 5-watt Guitar Amplifier (AMPTUBULARBK, $179) from Archer. Play your heart out with the warmth of the 12AX7 tube preamp and EL84 tube power amp. 8" speaker, 8 ohm and 16 ohm output jacks.
N32 Electric Guitar Pack (GTSURBANBK, $199) from Archer. Guitar features Basswood Body, Bolt-On Maple Neck, Rosewood Fingerboard, Black finish. Includes: Amp, Instrument Cable, Gig Bag, Guitar Strap, Guitar Picks, set of strings.
GigMaker Deluxe Acoustic Guitar Package (GTSGIGMAKERDLX, $199.99 plus Free $10 Gift Card with Mail-In Rebate) from Yamaha. Great package includes an FD01S solid top guitar, gig bag, digital tuner, DVD guitar lessons, strap, strings, and picks.
Pro Audio/Recording Gift Ideas:

Pocket Operators (SYSPO20, SYSPO28, SYSPO24, $59) from Teenage Engineering. PO-20 ARCADE: minimalist arcade synthesizer module perfect for modern tabletop synth rigs. PO-28 ROBOT: 8-bit synthesizer lets you define your own performance sounds. PO-24 OFFICE: lo-fi rhythm machine loaded with 16 sampled and synthesized percussion sounds. Each unit requires (2) AAA batteries, not included.
Dynamic SM58 VOCAL MICROPHONE (MICSM58LC, $99 includes $10 mail-in rebate) from Shure. The legendary SM58® is designed for professional vocal use in live performance, sound reinforcement, and studio recording. Uniform cardioid pickup pattern.
Headphones MDR-7506 (SRSMDR7506, $99.99) from Sony. Large diaphragm foldable headphone designed for professional studio and live/broadcast applications. Includes carrying bag and a unimatch plug.
Handheld Digital Recorder DR-100mkIII (SRSDR100MKIII, $399.99) from Tascam. 2-channel Portable Digital Recorder with up to 24-bit/192kHz Resolution, Low-noise HDDA Preamps, AB Stereo and Omni Microphone Pairs. Simultaneously record a backup file, and simultaneously record both WAV and MP3 files. Runs on (2) standard AA batteries, bus power, or optional power adaptor (EC307P520E, $29.99).
School Music Student Gift Ideas:

Model 20 Violin Outfit, 4/4 size (VLNMODEL20, $129.99) from Mathias Thoma. Solid spruce top, solid maple back and ribs, inlaid ebony purfling. Includes Brazilwood horsehair bow and padded Cordura bag.
pBONE Plastic Trombone (TBOPBONE1(color), $179 plus Free $10 Gift Card with Mail-In Rebate) from Conn-Selmer. The world's first plastic trombone brings a fun and intriguing twist to the traditional trombone and is a fully functioning, medium bore Bb tenor trombone. Available in nine colors.
Student Flute RFL102 (FLURFL102, $199.99 plus Free $10 Gift Card with Mail-In Rebate) from Ravel. Reliable, quality instrument for the young band student or older beginner. Key of C, closed-hole, silver-plated finish. Low C foot, includes case.
Pocket Trumpet (PTRRPKT1 Brass, PTRRPKT1BLK Black, PTRRPKT1RED, Red, $209.99, Free Gift $10 Gift Card w/ Mail-In Rebate) from Ravel. Compact and great for practicing, ideal for the musician on the go! Key of Bb, .460" bore, 4.1" bell, 7C mouthpiece. Includes polishing cloth, pair of white marching gloves, and case.
Cascio Interstate Music ranks in the top 15 nationally among musical instrument retailers, and is also one of the nation's top drum retailers. As the Company moves into its 70th year in the Music Industry, Cascio continues to evolve as an omni-channel musical retailer, in an effort to satisfy all its customers expanding and changing needs both now and in the future.
The Company markets over 75,000 musical instruments and accessories to musicians of all ages in a number of ways including via their website, http://www.interstatemusic.com, and through their SuperStore, located in the Milwaukee suburb of New Berlin, Wisconsin, as well as their musician-staffed information center at (800) 462-2263. Cascio also provides products to music educators at over 100,000 schools and universities worldwide. The Company started in 1946 in Milwaukee, Wisconsin and proudly remains independently owned, operated and run by musicians.