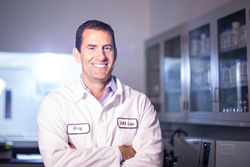 Wausau, WI (PRWEB) December 07, 2016
Dr. Greg Leyer, the Chief Scientific Officer of UAS Labs, was honored to present at the International Probiotic Association's Washington DC workshop on November 2nd. The conference was an opportunity for both probiotic industry experts and government regulators to engage in dialog regarding probiotic dietary supplement regulations.
Dr. Leyer spoke about two main topics at the IPA Workshop. The first was the current approach to probiotic safety and the second was the New Dietary Ingredient Notification (NDIN) Draft Guidance document. The purpose of which was to present data and evidence to the FDA in order to discuss science-driven changes to the current guidance.
"I was very pleased to be asked to present at the IPA Workshop. My task was to present data to the FDA regarding a very specific area of the NDIN guidance document as it relates to probiotic fermentation changes and probiotic safety. The FDA was very open to hearing this point of view, and enhanced dialog between regulators and industry should lead to meaningful regulations that continue to put consumer safety at the forefront," states Dr. Leyer.
To learn more about Dr. Leyer and his probiotic research, visit http://uaslabs.com/.
About Dr. Leyer
Dr. Gregory Leyer is a world renowned probiotic expert. After receiving his PhD from the University of Wisconsin-Madison in Food Microbiology and Toxicology, Dr. Leyer started his career at Abbott Nutrition in Medical Nutritional Product Development, focusing on innovative probiotic solutions for adults and children. Dr. Leyer then held several positions at Danisco-DuPont Nutrition and Health, including Global Probiotic Technical Director and Global Business Development Director–Consumer Healthcare, all with an emphasis on Probiotics. At UAS Labs, his Chief Scientific Officer responsibilities span leading gold standard clinical trials, quality, regulatory affairs, strategy development, technical service and comprehensive instructional training activities. Dr. Leyer has authored and coauthored several papers in the areas of probiotic clinical results, application know-how, and safety parameters.
About UAS Labs
Founded in 1979, UAS Labs, LLC has delivered the highest quality, science-backed probiotics to the natural products marketplace for more than thirty years. Strictly dedicated to probiotic manufacturing, UAS Labs is committed to designing innovative and effective formulations including strains such as Lactobacillus acidophilus DDS®-1 and patented Lactobacillus reuteri NCIMB 30242 (LRC™) for cholesterol support. UAS Labs products are sold to private label and contract manufacturing customers in the U.S., and over 45 other countries. This GMP and organic certified company is fully integrated from formulation through manufacturing, packaging and marketing, and adheres to the highest quality standards. Learn more at uaslabs.com.