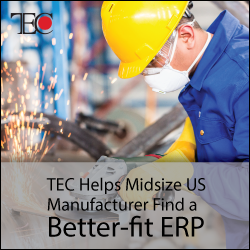 TEC knew all the angles, and all the techniques necessary to get us the right system at the right price. Clearly, they knew a lot about this that we didn't, and it really, really paid off for us." —Jim Rokosky, VP Operations, New Pig
Montreal, Canada (PRWEB) December 02, 2016
New Pig, the world's leading provider of supplies for leak and spill containment, faced a challenge familiar to many midsize organizations. The company's IT infrastructure was a vast patchwork of different systems, with its enterprise resource planning (ERP) and customer relationship management (CRM) systems composed of 31 different solutions. As well, its main two ERP systems were over 25 years old. Issues included high levels of fragmentation, duplication of data and processes, issues with synchronization, lack of third-party tools support, lack of staff with legacy support skills, and a lack of modern ERP functionality.
New Pig initially planned to upgrade its existing ERP, and hired TEC to perform a Software Capabilities Assessment that would determine if an upgrade would supply all the functionality the company required. At a critical moment in the capability assessment process, the New Pig project team realized that since the upgrade would be the equivalent of a new installation, it would make good sense to fully explore the marketplace to see if there were other ERP solutions that more closely fit its needs.
With the expertise and guidance of TEC's project delivery team, as well as its proven methodology and industry-leading TEC Advisor scoring decision platform and resources, New Pig and TEC were able to:

capture New Pig's processes and map out the company's detailed functional and technical requirements;
create a shortlist and compare solutions head to head using the TEC Advisor scoring platform;
develop, help score, and moderate vendor demo scripts; and
assess the shortlisted vendors and their implementation partners in terms of market experience, corporate direction, and references.
As a result of this process, a best-fit solution from IFS was selected as New Pig's new ERP system. Says Jim Rokosky, VP, Operations at New Pig, "TEC knew all the angles, and all the techniques necessary to get us the right system at the right price. Clearly, they knew a lot about this that we didn't, and it really, really paid off for us."
As well, TEC guided New Pig through the contract negotiation process so effectively, the company was able to secure a large discount—one that was more than three times the total cost of TEC's participation in the project. As Rokosky puts it, "We got a 300 percent ROI on every dollar we invested in TEC. That was great for us, as was the rest of the selection project. I can't say enough good things about TEC Selection Services, and would recommend them without the slightest hesitation."
Read the full case study for an in-depth look at New Pig's ERP selection project with TEC.
For more information on TEC's software evaluation and selection tools and services, contact +1 514-954-3665, ext. 404, or email Selection Services.
About Technology Evaluation Centers (TEC)
Technology Evaluation Centers (TEC) is the world's leading provider of software selection resources, services, and research materials, helping organizations evaluate and select the best enterprise software for their needs. With its advanced decision-making process and software selection experts, TEC reduces the time, cost, and risk associated with enterprise software selection.
Over 3.5 million subscribers leverage TEC's extensive research and detailed information on more than 1,000 leading software solutions across all major application areas. TEC is recognized as an industry-leading software selection advisory firm offering resources and services both online and onsite. For more information, please visit www3.technologyevaluation.com.