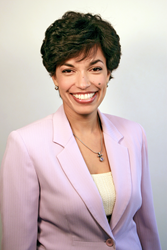 We are very fortunate to have Bonnie add her unique voice and leadership insights at our conference. She blends great knowledge with unbridled optimism and empathy to take action to be the best you can be.
Delray Beach, FL (PRWEB) December 05, 2016
Bonnie St. John, a renowned leadership consultant, keynote speaker, Olympic medalist, and best-selling author, brings her illuminating leadership message to Brandon Hall Group's Excellence17 Conference on Jan. 25, 2017.
St. John presents a captivating 3½-hour interactive workshop on the science of micro-resilience, which empowers effective navigation of the intellectual and emotional demands that often impede our abilities to lead and engage. Micro-resilience comes to life through dozens of entertaining anecdotes from real people who have incorporated the techniques into a variety of environments, from high-pressure global financial markets, to Fortune 500 executive suites, entrepreneurial endeavors, and the precision of service professionals.
St. John will also lead a discussion on How Great Women Lead, based on her best-selling book by the same name. St. John will provide insights from an extraordinary journey she took with her daughter, Darcy Deane, to learn about the motivations and key leadership qualities of some of the world's most powerful women, including Hillary Clinton, Condoleezza Rice, the President of Liberia, Facebook COO Sheryl Sandberg, fashion designers, CEOs, women's rights activists, and many more.
The session on Micro-Resilience: Illuminating Insights into High-Performance Leadership and Engagement is on Wednesday, Jan. 25 at 10:30 am at Excellence17, held at the PGA Resort and Spa in Palm Beach Gardens, FL, Jan. 24-27.
You can get a preview of both presentations by listening to Brandon Hall Group's weekly HCMx Radio podcast, where Brandon Hall Group COO Rachel Cooke interviews Bonnie in a two-part series. Part one aired Thursday, Dec. 1 and part two will air Wednesday, Dec. 7. You can access both episodes here.
Said Cooke: "We are very fortunate to have Bonnie to add her unique voice and leadership insights at our conference. She blends great knowledge with unbridled optimism and empathy to deliver a message that inspires you to reflect and then take action to be the best you can be."
St. John has risen to the highest levels of achievement in a variety of endeavors throughout her life. Despite having her right leg amputated at age five, she became the first African-American ever to win Paralympic medals in ski racing, taking home a silver and two bronze medals in downhill events at the 1984 Paralympics in Innsbruck, Austria.  In recognition of this historic achievement, Bonnie was quoted on millions of Starbucks coffee cups and was honored at the White House by President George W. Bush.
Bonnie graduated Magna Cum Laude from Harvard University and earned a Rhodes Scholarship to Oxford, taking an M.Litt. in Economics. After returning to the US, she began her business career at IBM where she won awards as a sales rep. Soon, though, Washington came calling and Bonnie was appointed by President Bill Clinton as a Director for Human Capital Policy on the White House National Economic Council.
St. John is joined at the conference by the keynoter, PeopleTicker Chairman John Sculley, the former Pepsi and Apple CEO, and a host of executive presenters from iconic organizations, including Accenture, Bank of America, Boeing, Cigna, Cisco, General Electric, General Mills, Genpact, IBM, Intel, KFC, MasterCard, Mercer, McKinsey, Prudential Financial, SAP, Shell, SunTrust Bank, UL, and Zynga. Here are a few additional highlights:     

A full-day workshop, The Power of Measurement, which explores how breaking through the obstacles to meaningful measurement of HCM practices can accelerate success. This is a pre-conference workshop held Tuesday, Jan. 24.
Learning Convergence: How to Develop a True Blended Learning Program, featuring Brandon Hall Group's latest research and models on blended learning and Brandon Hall Group Excellence Award winners to share leading practices and lessons learned.
How to Keep the Great Talent You Have, featuring leading talent retention practices of award-winning organizations.
Sponsors include Litmos, CrossKnowledge, NetDimensions, SumTotal, a Skillsoft company; EdCast, Questionmark, Cornerstone, Caliper, Soundview, Saba, and enboarder.
If you're interested in joining global executives at the HCM Excellence Conference 2017, we invite you to take advantage of an exclusive $100 discount through Dec. 9 using code: Exc17HolidaySpecial.* Click here for the complete schedule, pricing information and registration.
*Not valid on previous registrations or for HCM solution providers.
About Brandon Hall Group 
Brandon Hall Group is a HCM research and advisory services firm that provides insights around key performance areas, including Learning and Development, Talent Management, Leadership Development, Talent Acquisition and Workforce Management.
With more than 10,000 clients globally and 23 years of delivering world-class research and advisory services, Brandon Hall Group is focused on developing research that drives performance in emerging and large organizations, and provides strategic insights for executives and practitioners responsible for growth and business results.
At the core of our offerings is a Membership Program that combines research, benchmarking and unlimited access to data and analysts. The Membership Program offers insights and best practices to enable executives and practitioners to make the right decisions about people, processes, and systems, coalesced with analyst advisory services which aim to put the research into action in a way that is practical and efficient.
To learn more about Brandon Hall Group, please call us at (561) 865-5017 or email us at success(at)brandonhall(dot)com