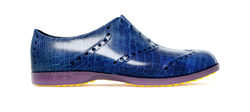 "We encourage people to try on a pair of Biion LUX and just watch the 'conversation START.' From weddings to regattas, the new LUX Series will knock your socks off – LITERALLY! There is absolutely nothing like it," added Buchanan.
Toronto, ON, Canada (PRWEB) December 05, 2016
Biion Footwear, a Canadian manufacturer of versatile, classically inspired, EVA Oxford Brogue shoes has launched their new signature LUX Collection into fashion retailers around the globe and sales have flourished for the young company.
Biion Footwear has been riding a huge wave of success. Within two short years, the company's global distribution has reached over 20 countries including Canada, the United States, Italy, Greece, Austria, Spain, Australia, Japan, Indonesia, South Korea, Costa Rica, Netherlands, New Zealand, United Kingdom, Mexico, Colombia, and South Africa. This growth has exceeded all expectations for the dynamic, expanding, Biion brand.
In addition to this staggering growth, Biion has captured the attention of enormous collaborators in the form of licensing deals with Disney, Star Wars, Pixar, Nickelodeon, with others in the works for the launch of their NOIIB Kids division.
"Biion is represented by some of the best fashion houses, and is sold in top retailers around the world. Consequently, the new LUX Series will experience an unprecedented company roll-out," commented Biion Footwear Founder and CEO Rick Buchanan.
Biion has channeled its technical EVA footwear into a line of fashion statements with the new 2017 LUX Series. The collection brings luxurious style to high functioning footwear, making them one of the most versatile in the industry. This is a shoe for dinner, travel, the yacht, the golf green and everywhere in between. As coined perfectly by the company's slogan, Biion is truly "One Shoe with Many Talents."
The signature LUX Series has seven models. This is in addition to the existing lineup of 40 looks, adding further to Biion's "Story of Color" and sets Biion apart from any foot wear brand on the market. The Lux line features a deep blue alligator, tortoise shell, a crimson red snake skin, a tan colored Corinthian, a strong subtle masculine finish in the Remington, tuxedo white with matching midsole and the ever classic black with black sole. All of these in a rich patent gloss finish.
"Biion is a footwear retailer's dream, as its all original Oxford Brogue Silhouette appeals to both men and ladies which open sales channels and hits with multi-functional designs and the LUX Series is no exception. Early sales indicate the LUX Series will be one of our top sellers in 2017," added Buchanan.
As with the rest of the Biion line, LUX is not just a visually striking line of shoes, they perform. Defying fashion trends and the construction of leather shoes, Buchanan and his Biion brand ventures to the future and infuses an EVA compound into injected molded footwear. Within the molecular structure of this patented compound, a perfectly fitting, seemingly weightless shoe is found, giving rise to the first form fitting Brogues to hit the shelves of some of the best fashion retailers in the world.
"We encourage people to try on a pair of Biion LUX and just watch the 'conversation start.' From weddings to regattas, the new LUX Series will knock your socks off – literally! There is absolutely nothing like it," added Buchanan.
Changing the footwear landscape is something that has been on the mind of Buchanan for years. The entrepreneur ran his fashion distribution agency as he has took the "steps" to create one of the most fashionable and functionable shoes on the market today – BIION.
Biion is an original and has graced the feet of many celebrities and athletes around the world. Justin Timberlake, Bruno Mars, Bill Murray, Sam Jackson, Johnny Damon, Joe Carter and Wayne Gretzky, just to name a few!
The buzz is palpable, as this exciting brand breaks through with more and more exciting news. Stay tuned!
About Biion Footwear:
Biion Footwear was developed to inspire and represent people who don't settle for the average. Those who are bold enough to embrace their own rules and DISRUPT the norm. The company was born out of a vision to create a versatile, comfortable, timeless classic shoe that not only stands out from the crowd but attracts a crowd and fits a vast array of consumers. This foresight transcends lifestyle and transitions into golf as well as boating. No matter your style there's a Biion for you.
For more information on Biion Footwear please contact INFO(at)BIIONFOOTWEAR.COM.
Use this link for a sneak peak of the upcoming line of Biion Footwear
2017 Biion Footwear Catalog
Website: http://www.biionfootwear.com
Twitter: http://www.twitter.com/biionfootwear
# # #