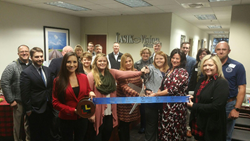 It's simple: when you see better, you live better.
LUBBOCK, Texas (PRWEB) November 30, 2016
The Lubbock Chamber of Commerce today hosted a ribbon cutting at The LASIK Vision Institute's (LVI) new laser vision correction center. The center is LVI's first in Lubbock and eighth location in Texas.
The event took place on November 30 at 9:30 a.m. After a brief introduction about the center, attendees observed a ceremonial ribbon cutting. Those in attendance included The LASIK Vision Institute staff and Chamber Ambassadors from the Lubbock Chamber of Commerce.
Following the ceremony, guests were invited to treat themselves to complimentary light refreshments.
"We are thrilled to be opening this facility, which will provide safe and affordable vision correction to the people of Lubbock and its surrounding areas," said LVI CEO Ben Cook. "It's simple: when you see better, you live better."
The LASIK Vision Institute is an industry leader, having successfully completed more than 1.1 million laser vision correction procedures. With more than 80 centers across the United States and payment options for nearly every budget, LVI is committed to convenience and affordability.
Like all LVI facilities, the new center in Lubbock is equipped with state-of-the-art technology and staffed by highly trained, experienced independent surgeons and medical staff.
The new Lubbock center is located at 5307 West Loop 289 Suite 105, Lubbock, TX 79414.
To learn more about LVI's vision correction options, schedule a free evaluation today.
About The LASIK Vision Institute
The top national provider of laser eye surgery, The LASIK Vision Institute (LVI) operates a growing nationwide network. The company utilizes safe, FDA-approved, advanced LASIK technology. LVI's highly skilled independent LASIK surgeons have performed more than 1.1 million procedures. For more information, visit The LASIK Vision Institute.