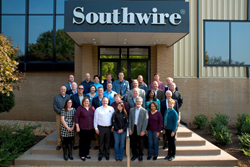 We enjoy seeing how things are made but, even more, we like meeting the people who are making things in Georgia
Carrolton, Georgia (PRWEB) November 30, 2016
As part of the Georgia Manufacturing Alliance, leaders in Georgia's manufacturing community recently participated in a tour of Southwire in Carrollton.
On November 14, a group of 30 industry professionals toured Southwire's Utility Products Plant, the company's oldest and largest manufacturing facility. The tour was coordinated by the Georgia Manufacturing Alliance (GMA) as part of an ongoing plant tour series.
The visit began with a presentation of Southwire's history and a company overview shared by Jason Pollard, Southwire's senior director of Corporate Communication.
"I believe that learning about the history of an organization helps our members have a better appreciation of the facilities we tour," said Jason Moss, CEO of GMA.
In addition to the company overview, Pollard shared details about how Southwire is addressing the skilled trade shortage currently facing the industry through their cooperative education programs, most notably, 12 for Life.
"Being a third-generation Southwire employee, it gives me great pride to share our company's story with other manufacturing leaders," said Pollard. "We are all facing a similar environment in our industry when it comes to the skilled trade shortage, and we are excited to share the things that we have learned at Southwire while we also learn from our peers."
Following the presentation, participants received a guided tour of the company's Utility Products Plant. The facility is located on the original plant site built by Roy Richards, Sr. in 1950 and is one of the 30 manufacturing facilities in the Southwire footprint. The plant's product portfolio includes a variety of power distribution solutions including overhead distribution and primary and secondary distribution cables.
"The manufacturing process was very impressive and the company's focus on employee safety is unmatched," said Moss. "We enjoy seeing how things are made but, even more, we like meeting the people who are making things in Georgia."
About Southwire Company, LLC
A leader in technology and innovation, Southwire Company, LLC is North America's largest wire and cable producer. The company and its subsidiaries manufacture utility wire and cable, building wire and cable, industrial power cable, OEM wire products, SCR® copper and aluminum rod and continuous casting technology . Southwire offers a robust line of equipment and tools used by contractors in the installation of those products. To learn more about Southwire's products and innovation, community involvement, and vision for a sustainable future, please visit http://www.southwiresustainability.com.
About the Georgia Manufacturing Alliance
The Georgia Manufacturing Alliance is a professional organization founded in 2008 to support Georgia's manufacturing community. GMA provides monthly plant tours, educational sessions and unique networking opportunities designed to help make profitable business connections for its members. To learn more about the organization, visit http://www.GeorgiaManufacturingAlliance.com.