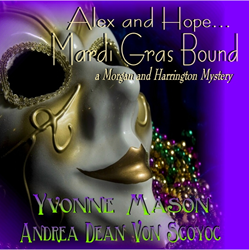 Strap yourself in for the ride of your wildest imagination...
Evergreen, Colorado (PRWEB) November 30, 2016
A cynical, sarcastic female bounty hunter, Alex Morgan, and a secretary, Hope Harrington, are at it again in "Mardi Gras Bound", the sequel to the popular audiobook mystery adventure, "When Fates Collide: Morgan and Harrington Mystery Series," by Brook Forest Voices.
This time around, join Alex and Hope Harrington, as they head to New Orleans during Mardi Gras for the bounty of a lifetime…a descendant of the legendary Marie Laveau!
Strap yourselves in tight for the ride of your wildest imagination through swamps with alligators and snakes, while meeting some of the most colorful characters imaginable!
The collaboration of Yvonne and Andrea is just as unlikely. While they are kindred spirits they reside on opposite coasts in Florida. Consequently they've chosen to write from the first person perspective, allowing each to lend their unique personality to the characters.
The audiobook series is available through all of BFV's distribution channels.
Brook Forest Voices is a complete audio production, publishing, and distribution company located in the Denver, CO metro area . If you would like to know more, visit http://www.brookforestvoices.com or contact Diana Andrade, publisher, at 303-670-4145.