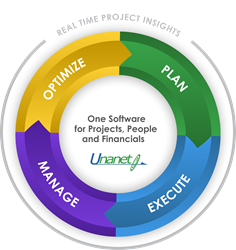 Unanet is loved by our customer and partner community because it helps our customers operate more efficiently
Dulles, Virginia (PRWEB) November 30, 2016
More than one thousand organizations of all sizes rely on Unanet to manage their projects and people. Since the release of Unanet's full Project ERP solution last year, two hundred professional services firms have adopted Unanet to manage the whole project lifecycle in compliance with Federal requirements, replacing legacy systems.
With the new release of Unanet, customers benefit from major capability improvements in the following seven areas:

Expanded Financial Reporting, with drill-downs
Improved Project Reporting & Analytics – at summary and detailed levels, including comparing forecast revenues and fully burdened costs with actuals, and supporting an alternative method for forecasting and prorating plans for work in progress
Budgeting enhancements including the ability to calculate indirect rates from GL budgets
Additional Contact Management (CRM) capabilities
A new Project Control Panel to provide an overview of the many dimensions of project performance, with drill-downs to other key supporting reports
Project management enhancements including automatic project code generation, increased flexibility when managing Fixed Price Billing and Revenue Recognition Schedules, alerts based on percentage of Funded Value, and additional capabilities in managing periodic plans for labor and expenses
A broad mix of functionality and usability improvements, including expanded and flexible access controls, enhanced support for Leave Without Pay and Shift Differentials, and bi-weekly overlap time periods
Richard Hayden, Unanet's Senior Vice President of Product Management and Marketing commented, "This latest Unanet release reflects an acceleration of investment in product enhancements driven by customer input. Unanet is loved by our customer and partner community because it helps our customers operate more efficiently by eliminating silos and the need to reconcile transactions, freeing them to spend their time on more fulfilling endeavors. When organizations look for alternatives to the cumbersome and disparate offerings of their legacy vendors, they are realizing the transformative power of Unanet's single integrated software built on a single database."
About Unanet:
Unanet is a leading provider of Cloud and On-Premise software for project-based organizations. Unanet delivers a purpose-built Project ERP solution with skills management, resource planning, budgeting & forecasting, time & expense reporting, billing & revenue recognition, project management analytics and dashboards, and integrated financials with AR, AP, GL and cost pool calculations. Over 1,000 organizations trust Unanet to maximize staff utilization, reduce administrative costs by 90%, improve invoicing by 10X, and support forward decision-making for improved operations.