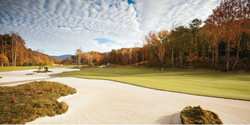 Travelers Rest, SC (PRWEB) December 01, 2016
The Cliffs, a collection of seven private luxury mountain and lake communities in the western Carolinas, is included in Golfweek magazine's coveted list of "Best Residential Courses 2017." Located between two of the nation's most award-winning cities for quality of life – Greenville, South Carolina and Asheville, North Carolina – The Cliffs opens the door to seven championship courses designed by top architects and designers through a single membership.
Golfweek's top 100 rankings feature The Cliffs' Gary Player designed course at Mountain Park and the Tom Fazio course at Keowee Vineyards. The Jack Nicklaus course at Walnut Cove and the Tom Jackson course at Glassy are listed in the top 200. Set within the scenic backdrop of the Blue Ridge Mountains, each course is member-friendly yet challenging and uniquely designed to complement its landscape and environment.
"It is an honor to have four of our seven courses acknowledged by Golfweek as the best residential courses for 2017," says David Sawyer, President of The Cliffs Clubs. "We are thrilled with the continued recognition for our world-class golf facilities and this ranking is not only a reflection of the courses themselves, but the incredible team that provides the best playing conditions and experience for our members and guests on a daily basis."
In addition to seven unique golf experiences, The Cliffs' membership provides easy access to a variety of amenities, including more than fifty restaurant and private event venues, six wellness centers, tennis courts, an equestrian center, marina, hiking trails, vineyards, beach club, organic farm and a number of year-round social activities.
As the sole owner and manager of The Cliffs, Arendale Holdings is committed to enhancing the lifestyle, programming and amenities of their communities. In addition to The Cliffs, Arendale Holdings has a strong presence in Golfweek's list of best residential courses, which includes Clear Creek in Tahoe, Nevada, the Colorado Golf Club in Parker, Colorado, and the Currahee Club in Toccoa, Georgia.
Golfweek is a weekly golf publication with a circulation of 162,987.
About The Cliffs:
The Cliffs is a collection of seven premier private, luxury residential mountain and lake communities located in the Blue Ridge Mountains of the western Carolinas, between two of the nation's top award-winning cities for quality of life – Greenville, S.C. and Asheville, N.C. – and Clemson, S.C. – home to top-ranked Clemson University. The Cliffs' suite of amenities for members includes seven clubs, seven nationally recognized championship golf courses, six wellness centers, boating, watersports, marina, beach club, cycling, paddle sports, tennis complexes, equestrian center, hiking trails, wakeboarding, wine clubs, 50 restaurant and private event venues, an organic farm and more than 4,000 year-round social activities to create timeless experiences. Homes at The Cliffs range in price from $350,000 to $6 million+; homesites, from $125,000. For more information about The Cliffs, visit CliffsLiving.com. Contact The Cliffs at 866-411-5771 or info(at)cliffsliving(dot)com to arrange a Discovery Visit.