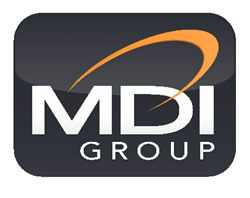 It's never one person who makes a company truly great. It's the work of a talented team with a shared vision for growth and drive to be the best.
Atlanta, GA (PRWEB) December 01, 2016
MDI Group, a leading national IT staffing and recruiting firm, announced today that Ella Koscik, current Chairperson of the Board and Owner of MDI Group, has been named Chief Executive Officer. Ms. Koscik will assume the role immediately, with the goal of focusing the company on sales growth and strategy.
"Ella's strength as a leader is grounded in her ability to build a team of great people and lead through change," comments Theresa Senter, member of MDI Group's Board. "Her energy, positivity, and passion for this business will ensure the company will leverage its strengths and foster continued growth as we drive forward into the future."
Ms. Koscik's previous executive leadership experience throughout her 23 years with MDI Group position her strategically to lead the business forward in 2017. With its existing foundation of strong operational discipline, MDI Group will benefit from Koscik's concentrated focus on sales strategy and relationship building. The staffing industry continues to contend with a highly competitive marketplace, and Koscik intends to work with her strong executive team to stay focused on getting ahead.
"It's never one person who makes a company truly great. It's the work of a talented team with a shared vision for growth and drive to be the best," comments Ms. Koscik. "People – our employees, clients, and consultants – are critical to the success of our organization, and I'm looking forward to reinforcing those relationships and ensuring everyone remains focused on what it is that they do best. In the next twelve to eighteen months, I'm looking to clarify our key business objectives and prepare the team to execute on that strategy and achieve success in this evolving market."
Headquartered in Atlanta, GA, MDI Group has additional locations in Austin, TX, Charlotte, NC, Dallas, TX, Fort Worth, TX, Greenville, SC, and Phoenix, AZ.
About MDI Group
MDI Group is a pioneer among IT staffing and recruiting agencies, providing a full range of recruitment services to help in-house resources tackle "what's next" in terms of emerging technology projects and challenging business objectives since 1988. Services range from contract and contract-to-hire placements to project teams and end-to-end processes that maximize the engagement and management of contract labor. MDI Group has placed more than 10,000 technology consultants with mid-sized to Fortune 500 organizations across the country and has offices in Atlanta, Georgia; Austin, Texas; Charlotte, N.C.; Dallas, Texas; Fort Worth, Texas; Greenville, S.C.; and Phoenix, Arizona. For more information, visit http://www.mdigroup.com and follow @MDIGroup.