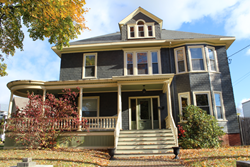 This increase in beds means that even more women will have access to high quality, evidence-based, gender-responsive residential treatment in Maine.
Scarborough, Maine (PRWEB) December 13, 2016
Addiction is a growing problem throughout the United States, and the gender gap is closing, increasing the importance of raising awareness and increasing access to treatment for women. Crossroads has been providing addiction treatment for women since 1974, and grew to accommodate services for men as well starting in 2011. The organization is proud to announce that it is expanding its current 10-bed Back Cove Women's Residential Program to include a second location in Portland with eight beds.
"This increase in beds means that even more women will have access to high quality, evidence-based, gender-responsive residential treatment in Maine," said Shannon Trainor, Crossroads Chief Executive Officer.
The new site will encompass the same services, programming and commitment to individualized care as the current site. Women will be able to focus on recovery and healing in a tranquil setting that reduces outside distractions while providing structured support.
The Back Cove Residential Program provides women with individualized therapy and counseling as well as group therapy and activities. There is a focus on trauma-informed therapy to support clients in working through underlying issues impacting their recovery and building effective coping strategies for dealing with challenging situations. The program is rooted in the principles of the 12 steps and includes a variety of wellness services to address mental, emotional, and spiritual health.
Family plays an integral role in the recovery process, and through the Back Cove Women's Residential program, family members receive the support and guidance they need as well. They may participate in group therapy sessions, family therapy, and Al-Anon meetings to better understand the impact of a loved one's addiction on their lives and how to be proactive in recovery.
"Adding additional beds enables Crossroads to expand its reach and connect with more women throughout Maine and the country who are looking for cutting-edge, gender-responsive addiction and mental health treatment," Trainor said.
Women in the Back Cove Residential Program are empowered to make positive changes in their lives, embrace a lifestyle of recovery and remember who they wanted to be. More information about Crossroads is available online at http://www.crossroadsme.com.
ABOUT:
Crossroads is a fully accredited addiction and behavioral health treatment center located in Scarborough, Maine. It is a member of the National Association of Addiction Treatment Providers and accredited by the Commission on Accreditation of Rehabilitation Facilities (CARF). Clients engage in evidence-based, gender-responsive treatment to build the skills and strategies necessary to support long-term recovery. In addition to treating substance use disorders, the facility also addresses mental health disorders for more comprehensive and individualized care. Specialized programs are available for pregnant women and new mothers, as well as family and friends. Crossroads supports clients in remembering who they wanted to be and getting a fresh start through a substance-free lifestyle.