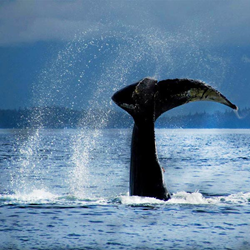 A trip with Alaska Galore Tours provides each passenger a glimpse and an adventure into Southeast Alaska's wilderness and its wildlife guided by knowledgeable and experienced local guides
Juneau, AK (PRWEB) December 01, 2016
Alaska Galore Tours has launched a new website - Alaska Galore Tours Juneau Whale Watching - for booking Alaska whale watching tours, Alaska salmon fishing, Alaska halibut fishing, helicopter flightseeing and private land tours for Juneau, Alaska visitors.
Whale watching in Juneau, Alaska is one of the region's top attractions. Over the last thirty years tourists have disembarked at Juneau to explore the pristine waters looking for Humpback whales. Alaska Galore Tours locally-trained whale watching captains have been 100% successful in locating these majestic gentle giants and sharing this experience with thousands of visitors.
Launching from Auke bay, Alaska Galore Tours fleet of comfortable, heated boats are small enough to give visitors a more personalized experience. Large windows give all passengers great viewing. The sightseeing tour usually has six to eighteen people on board and is vastly different than tours on one of the big boats and much better—like going out on a boat with friends.
"Looking for a Whale watching adventure in Juneau Alaska that guarantees you will see whales and over delivers? Look no further!!! Captain Gabe and his crew provided a truly thrilling tour of a lifetime that was educational and created memories, pictures and an awesome experience that will be hard to top! We were so lucky whales went right under our boat came up the other side and went off with tails up within just few feet from our boat—all caught on video!", said L. Menzi from Darien, IL.
A trip with Alaska Galore Tours provides each passenger a glimpse and an adventure into Southeast Alaska's wilderness and its wildlife guided by knowledgeable and experienced local guides that call Alaska their home and playground. Passengers are likely to see Humpback whales, Killer whales, Bald Eagles, eagle nests, Dall's Porpoise, Harbor Porpoise, sea gulls, Surf Scooters, Oyster Catchers, Harlequin Ducks, Harbor Seals and Steller Sea Lions on a typical trip.
Private tours are affordable with Alaska Galore Tours and for a nominal fee, personal touches can be accommodated like special occasion cakes, fruit tray, cheese and crackers, sparkling ciders, locally brewed beer or something for any group. This tour is sold 'by the boat', regardless if it is a party of 1 or 18 people. Visitors often book private tours for special occasions like birthdays or anniversaries. Just the group, the captain and a naturalist are on board the boat--the tour can and will be customized to each party's needs.
Seasoned Juneau experts answer questions and help visitors plan trips when calling Alaska Galore Tours to book Alaska whale watching tours. They can be reached toll free at: 877-794-2537. If you are looking for a fishing charter in Juneau, visit Alaska Trophy Fishings' new website here: Alaska Salmon Fishing Juneau.