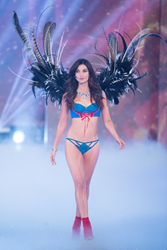 "Each jewel from the collection was as gorgeous and awe-inspiring as the VS Angel wearing it," said Pascal Mouawad, Co-Guardian of the Mouawad brand.
Paris, France (PRWEB) December 01, 2016
Spanning a sixteen-year relationship with Victoria's Secret, Mouawad has once again showcased its exclusive masterpieces worth of 12 million dollars, on the runway of this year's Victoria's Secret Fashion Show in Paris with the likes of Lily Aldridge, Iza Goulart, Stella Maxwell, and Sara Sampaio.
Held in the City of Lights for the very first time, the world's most famous fashion event was complemented by the 126-year-old brand's show-stopping Masterpiece Collection. With VIPs, A-list celebrities, and icons of the fashion world present, Paris was the ideal stage for jewelry of this caliber to be revealed, as each and every piece is as mesmerizing and unforgettable as the city itself. The VS lingerie models, known as Angels, were adorned with one-of-a-kind Mouawad creations featuring only the finest diamonds and gemstones, which helped usher in a triumphant statement at this year's show.
"Each jewel from the collection was as gorgeous and awe-inspiring as the VS Angel wearing it," said Pascal Mouawad, Co-Guardian of the Mouawad brand. The jewels which shined on this year's glamorous runway were specifically selected to complement the intricate designs of the lingerie worn by each model. "We are so proud to be once again showing at the Fashion Show and have selected over $12 million worth of our most spectacular pieces for this year's theme," he added.
The Victoria Secret Fashion Show 2016 Models wearing the Mouawad 'Masterpiece Collection' include:

Lily Aldridge wearing 137ct of white gold, diamond, and blue sapphire, valued at $892k
Iza Goulart wearing 73ct of white gold and diamond, valued at $3.3 million
Stella Maxwell wearing 86 ct of white & rose gold, diamond, and rubellite, valued at $685k
Sara Sampaio wearing 95ct of white & rose gold, diamond and ruby, valued at $988k
Leomie Anderson wearing 150ct of white gold, diamond, and blue sapphire set, valued at $956k
Kelly Gale wearing 142ct of white & yellow gold, diamond and emerald, valued at $972k
Flavia Lucini wearing 198ct of white gold, blue & yellow sapphire, valued at $1.4 million
Sanne Vloet wearing 101ct of white gold, diamond, and emerald, valued at $3 million
Mouawad has been behind the inspired collaborations with Victoria's Secret since 2001, when Heidi Klum wore the first Fantasy Bra named as Heavenly Star. Mouawad's exceptional jewelry collections have time and again rocked the fashion world, and this year's offerings were no exception.
The show will air on December 5th on the CBS television network.
About Mouawad
MOUAWAD – Enchanting customers with magnificent jewels and timepieces since 1890
Led by fourth-generation Co-Guardians, Fred, Alain, and Pascal Mouawad, and backed by more than a century of excellence in its field, Mouawad remains a family business built upon artistic excellence, superb craftsmanship, trust, and relationships. Mouawad designs, manufactures, and sells its own exclusive jewelry and timepiece collections ranging from boutique collections and haute joaillerie to magnificent bespoke masterpieces and objects of art. The Mouawad brand has penetrated continents across the world, while retaining its eminent position as a jeweler to royalty, high society, celebrities, and those who appreciate the finest standards of dazzling craftsmanship. The vision at Mouawad has always been to enchant and build lifelong relationships with customers by offering a wide range of jewels and timepieces for all occasions.
Diamonds and gemology have always been a passion for the Mouawad's, and besides being renowned for fine jewelry and timepieces, the Mouawad family has acquired over the years some of the largest and rarest diamonds in the world, and many of these historic gems carry Mouawad as part of their designated name. The family's ongoing support of the global industry through research and education led to third-generation Robert Mouawad receiving a Lifetime Achievement Award from the Gemological Institute of America (GIA) and having the GIA campus named in his honor.
Mouawad has been honored by the Guinness World Records four times, the most recent of which being for the Mouawad L'Incomparable Diamond Necklace—the most valuable necklace in the world ($55M)—featuring the world's largest internally flawless diamond, the Incomparable diamond (407.48 carat). In 2010, Guinness awarded Mouawad for creating the most valuable handbag in the world—the Mouawad 1001 Nights Diamond Purse ($3.8M). In 2003 the Very Sexy Fantasy Bra received a Guinness for being the most luxurious and expensive piece of lingerie ever made ($11M), and in 1990 a GWR was awarded for the Mouawad Splendor— the most expensive single pear-shaped diamond in the world at the time ($12.8M).
With brothers Fred Mouawad heading the diamond division, Alain, the watch division and Pascal, the retail division, each Co-Guardian brings his unique business acumen and creativity to the 126-year-old brand with the mission of continuing the rich heritage of creating fine jewelry and timepiece collections—while widening distribution through contemporary and accessible price points in order to increase the reach of the brand internationally.
http://www.mouawad.com
http://www.facebook.com/mouawad
Instagram: @mouawadjewelry
Twitter: @mouawadjewelry
For further information, please contact: EMC | Bowery / Ben Russo / ben(at)emcbowery(dot)com