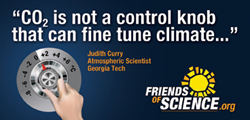 "...carbon pricing is not for amateurs" ... "carbon tax boosterism can do more harm than good."
CALGARY, Alberta Canada (PRWEB) December 01, 2016
Friends of Science Society has issued an open letter on the climate change and carbon price rhetoric of the Nov 23, 2016 letter by some 60 CEOs and 'civil society leaders' posted on the Smart Prosperity website, wherein that group claims Canada should make bold moves and big investments on clean-tech in advance of the alleged low-carbon future.
Friends of Science says Canadians could not possibly meet the Paris COP-21 greenhouse gas reductions without destroying the Canadian economy, as outlined in the 2015 report by Robert Lyman entitled: "Climate Change Targets for Canada: Examining the Implications"
"Our rebuttal provides facts and evidence to counter the claims of Smart Prosperity. For example, Canada already has the cleanest electrical power grid in the world, as we are primarily hydro," says Michelle Stirling, Communications Manager for Friends of Science Society, referencing Dr. Euan Mearns blog "Energy Matters" on electricity and energy in the G-20 of Sept. 8, 2016. "Canada has already significantly reduced noxious emissions, while other countries, like France, increased urban air pollution due to senseless carbon dioxide reduction schemes," referring to a report by Bloomberg, June 19, 2015. LINK: bloomberg.com/news/articles/2015-06-19/paris-smog-obscuring-eiffel-tower-threatens-diesel-car-dominance
As pointed out by economist Ross McKitrick, in an article Sept. 15, 2015 in the Financial Post, "carbon pricing is not for amateurs" and that "carbon tax boosterism can do more harm than good."
"The Smart Prosperity group claim economically advanced nations are pursuing clean-tech, but in fact most economic powerhouses like Japan and China are building dozens of coal-fired power plants," says Stirling, "while we in Canada shut down a handful of top-notch coal plants in favour of wasteful, redundant and very expensive wind and solar."
LINK: instituteforenergyresearch.org/analysis/as-u-s-shutters-coal-plants-china-and-japan-are-building-them/
In a May 23, 2016 article in the Cambridge journal MRS Energy and Sustainability, Cambridge professor Michael J. Kelly called the on-going deployment of subsidized wind and solar "total madness," pointing out that neither wind nor solar provide sufficient power for modern society.
"Canada has already done a tremendous job of 'cleaning' industry and reducing noxious emissions over the past 20 years. People can see for themselves on the website YourEnvironment.ca ," says Stirling. "The push for a price on carbon will mean a tremendous burden to the public, as outlined in our report "Alberta's Climate Plan: A Burden with No Benefit."
About
Friends of Science has spent a decade reviewing a broad spectrum of literature on climate change and have concluded the sun is the main driver of climate change, not carbon dioxide (CO2). Friends of Science is made up of a growing group of earth, atmospheric and solar scientists, engineers, and citizens.
Friends of Science Society
P.O. Box 23167, Mission P.O.
Calgary, Alberta
Canada T2S 3B1
Toll-free Telephone: 1-888-789-9597
Web: friendsofscience.org
E-mail: contact(at)friendsofscience( dot)org
Web: http://www.climatechange101.ca