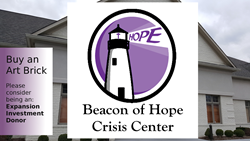 "Our data shows that Perry Township is where we need to be and we are very excited about the move and the ability to better serve our clients." - Katie Derek, Victim Advocate
Indianapolis, Indiana (PRWEB) December 01, 2016
Beacon of Hope Center for Women, Inc. (dba) Beacon of Hope Crisis Center (BOH) recently announced plans to move its corporate office to Perry Township in Indianapolis, IN in January of 2017. The agency serves individuals Statewide with primary numbers of service in Marion, Johnson and Hamilton counties; this new office will be more centrally located to all those that the agency serves.
For BOH, a crisis center serving victims of domestic violence and sexual assault, the new office space means improved client service, new amenities for employees and room for growth.
BOH will now occupy the middle section of a multi-tenant office building located in Indianapolis' Perry Township. "The new floor plan will provide greater efficiency in how we serve clients. As we started to outgrow the current office, it became increasingly difficult to serve clients comfortably and efficiently in the building. We are now able to better serve clients with an appropriate waiting space, room for counseling and meeting space options to adequately spread out and accomplish all necessary for our clients within the new building. We expect this to improve internal and external communication, and most importantly our speed in responding to clients," said Sandra Ziebold, Chief Executive Officer.
"We were fortunate to find such a nice space in the area where our data shows that we are best suited to be for those we serve. We wanted to limit the impact that relocation could have on our clients and our employees. I don't think we could have found a better location for our team. Our new location and enhanced operational efficiencies will help us continue to grow and evolve to keep pace with our client's needs, allowing us to provide exceptional value and superior service along the way," said Jackie Bowman Ponder, President Board of Director's.
Remodeling construction of the new space is slated to be complete by the first of January. BOH plans to move early to mid-January, at which time BOH's new address will be:
6920 S. East Street
Indianapolis, IN 46227
All BOH phone numbers and fax numbers will remain the same.
Please consider being a community contributor in assisting this mission with the extensive costs that go along with expansion. Visit their website at BeaconOfHopeIndy.Org and become an Expansion Investment Donor simply by purchasing a commemorative art brick. Buy an Art Brick Campaign for Beacon of Hope Crisis Center
About Beacon of Hope Crisis Center
Since 2007, Beacon of Hope Crisis Center (BOH) has provided domestic violence services and programs to the Central Indiana community. Since 2009 BOH has been the exclusive domestic violence organization in Marion County offering direct assistance to victims while addressing pet safety. In 2016, growth enabled enhanced services and programs for domestic violence victims and the additional service of providing advocacy for sexual assault victims as well. BOH, through its Victim Advocacy, Counseling, Employment, Teen Talk Outreach and Education, Criminal Justice and Foster Pet Programs offers victims of domestic violence assistance in overcoming barriers that hold them in abusive situations. BOH is a non-profit 501(c)(3) organization located in Indianapolis, Indiana.