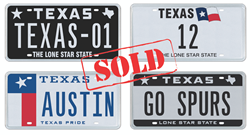 The highest selling plate was the low two-digit number 12.
Austin, Texas (PRWEB) December 01, 2016
The My Plates Great Plate Auction for 2016 has concluded, with a total of 47 sought after Texas license plate messages being sold. My Plates, the official marketing vendor for specialty license plates in Texas, conducted the auction event that delivered a total of $63,750 in overall sales of which $37,122 goes to the state of Texas, and thousands more to selected charities and University scholarships connected to various plate messages.
The highest selling plate was the low two-digit number 12 that sold for $6,250 followed by the state's capital city AUSTIN, that sold for $4,900. Coming in third was the plate message MOM selling for $4,500. My Plates will be donating their share of proceeds from the MOM plate to the National Breast Cancer Foundation.
Unlike other everyday Texas license plates, plate messages sold at auction by My Plates are offered for a 5-year term and are legally transferable. The plate owner then has the right to sell the plate message to another person with the same ongoing rights or gift it to a family member or friend. Transferability also means these plates could make great investments.
My Plates plans to conduct more plate auctions in 2017, including an event where the first single digit number plate will be offered to the market. Texans who are interested in these upcoming auction events may contact My Plates or visit myplates.com/register.
Auction Results
Plate Message Sold Price

12 $6,250.00
123 $3,600.00
1845 $1,900.00
1976 $1,200.00
2017 $550.00
TV $500.00
DO $550.00
VT $500.00
CA $500.00
GRANDMA $3,000.00
GRANDPA $3,200.00
NYC $650.00
MOM $4,500.00
VINTAGE $700.00
CHARGER $2,000.00
PONTIAC $550.00
BUGATTI $950.00
ALABAMA $3,400.00
GEORGIA $600.00
FLORIDA $550.00
MONTANA $550.00
YANKEES $800.00
GO SPURS $1,600.00
DODGERS $500.00
CUBBIES $850.00
VIKINGS $550.00
IRELAND $850.00
ITALIAN $500.00
MEXICAN $550.00
GERMANY $500.00
ENGLAND $700.00
ROUTE 66 $750.00
1-DALLAS $800.00
1-TEXANS $1,600.00
TEXAS-01 $2,000.00
AUSTIN $4,900.00
VAQUERO $500.00
HISTORY $500.00
HUNTERS $700.00
BUCKEYE $1,500.00
GO IRISH $1,500.00
HUSKERS $1,800.00
OLE MISS $600.00
1-BAYLOR $1,300.00
FL STATE $500.00
SPARTAN $500.00
WRECKEM $700.00