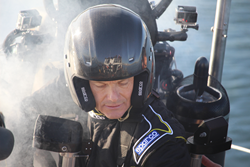 We want to give everyone a chance to invest in the future of Personal Flight. Our JetPack is just the beginning.
Long Beach, California (PRWEB) December 01, 2016
The future of PERSONAL FLIGHT took another giant leap forward today as JetPack Aviation co-founders David Mayman and Nelson Tyler performed another flawless, man/machine flight over the mouth of the Los Angeles river.
To announce the start of their equity crowd funding campaign, test pilot David Mayman engaged the twin engines of the company's first production class JetPack and lifted off from the King C launch boat under the deep blue skies of Southern California. Soaring majestically past the Queen Mary yacht birthed a short distance away, Mayman performed a series of intricate, precision flight maneuvers demonstrating the power, speed, and agility of the machine.
Said company CEO Mayman, "My partner Nelson and I have been working together for over a decade towards the day when personal flight is a reality and within the reach of the general public. Well today, our JetPack is very much a reality. And, through our Equity Crowed Funding campaign on StartEngine, we are offering everyone the opportunity to become an aviation pioneer investor and own a piece of our company.
"JetPacks are personal Freedom", says Principal Designer and company co-founder Nelson Tyler. "Just imagine waking up in the morning, strapping on your jetpack, and woosh! you're in the sky and on your way."
The Long Beach, California flight is a continuation of the company's demonstration world tour which began with a historic flight in New York around the Statue of Liberty. This maiden flight was followed up with the first ever European jetpack flight over the Port of Monaco, quickly followed by a press stopping flight over the City of London.
JPA's current jetpack is powered by twin, custom modified jet engines, has a forward cruising speed upwards of 65mph, and can achieve an altitude of 10,000 feet. Future models will exceed 100mph and reach altitudes in excess of 10,000 feet. Running on standard automotive diesel fuel, the jetpacks are extremely stable in flight and highly maneuverable making them ideal for a wide arrange of applications such as disaster search and rescue, emergency medical transportation, military reconnaissance, and entertainment. The jetpack is ready for commercial production and the company has already received consumer orders. JetPack Aviation is also working with the US Military on a rescue model under a joint research contract.
Members of the general public who would like to learn more about owning shares in JetPack Aviation via our Equity Crowd Funding campaign are invited to visit our investor page on StartEngine. Aviation fans can also enter our contest and WIN a Free JetPack Test Flight.
Join the Crowd and be a part of aviation history.
Become and investor: http://www.jetpackaviation.com
Enter JetPack Contest: https://gleam.io/VW3mx/jetpack-aviation