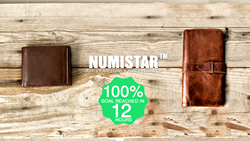 Gone are the days where we fumble with the loose change after we buy our morning coffee!
Singapore (PRWEB) December 06, 2016
February 29, a leather artisan brand based in exotic Singapore proudly announces the next evolution of the typical leather wallet, known as Numistar™.
Numistar™ is a unique wallet that automatically sorts coins and notes instantly. Launched on global crowdfunding platform, Kickstarter, Numistar's campaign was already 100% funded after just 12 hours.
Numistar™'s designers realized that the process of getting back loose change can be made more efficient. Wallet users fumble while separating the coins from the notes and putting them in their respective compartments; be it coin compartments, coin pouches or even the usual trousers pockets.
With this in mind, February 29 embarked on a 6 months mission to design a revolutionary range of wallets that can sort money instantly.
With a decade worth of leather crafting and smart designing experience, Numistar™ successfully addresses the problems faced by wallet users in areas of quality, aesthetics, and convenience to deliver a superior range of everyday wallets.
Numistar™ displays a number of thoughtful features such as;

Coin sorting capabilities – Users just have to drop the coins together with notes into the currency slot and it automatically routes the coins into the coin compartment.
Coin denomination sorting – In its coin sorting range, comes Paperboy™; a coin pouch crafted in premium leather; sorts' coins of different denominations into 3 separate compartments for better organization.
RFID Protection – With wireless identity theft on the rise, Numistar™ & Globetrotter™; comes with RFID shielding technology to minimize your credit cards information from wireless theft.
Convenience – Numistar™ & Globetrotter™ comes with SDHC memory card, SIM and micro SIM card slots which makes it perfect for the busy business person.
With frequent travelers in mind, Globetrotter™ is designed to fit up to one passport, two iPhone 6+s, a mini pen for clearing immigration forms quickly and 3 separate currency slots.
There is even a secret compartment to hide a secret stash of cash and a slot for a spare key for emergencies.
The designers at February 29 seemed to have covered all aspects of an everyday wallet.
"A wallet is an essential that is with us more than 18 hours a day; shouldn't it be your best buddy to look after your needs and valuables? I believe that Kickstarter is the best platform to launch Numistar™. It gives the little guys like us a voice to reach out to the rest of the world and allow backers to directly affect what they want in the final craft." says wallet designer, Eden Kew.
Numistar™ will currently only be available on global crowd funding site https://www.kickstarter.com/projects/marlin/radical-wallets-that-sort-your-coins-and-notes-ins/
At the conclusion of the campaign, February 29 intends to make Numistar™, Globetrotter™ and Paperboy™ available for purchase through their website. http://www.myFeb29.com/numistar
About February 29
Founded in 2006 by product designer Eden Kew, February 29 was established with the goal of designing and crafting quality, thoughtful leather goods without the luxury markup.
Press Contact:
Eden Kew
February 29
Email: numistar(at)myfeb29(dot)com
Website: http://www.myfeb29.com
Facebook: http://www.facebook.com/Feb29Bags
Download Media kit here