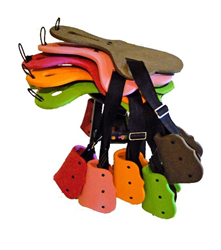 Shrewsbury, PA (PRWEB) December 05, 2016
Sideline Products is a Southern York County Pennsylvania-based premier designer and manufacturer founded out of necessity for the betterment of both the smaller rider and the horse. Smaller saddles can pinch and irritate the horse creating safety issues and limiting comfort and performance. The Saddle Sidekick is designed to fit over a properly fitted western saddle so it does not impact the comfort or performance of the horse. Further, the rider is able to maintain proper riding position where heel, hip and shoulder align.
Manufacture of Saddle Sidekicks has expanded due to high demand. Sideline Products is seeking dealers to support expansion.
Saddle Sidekicks comes in several fun and exciting colors and are available with and without tapedaros. Visit the company's website http://www.SaddleSidekicks.com and like and share on Facebook: http://www.facebook.com/saddlesidekicks/.