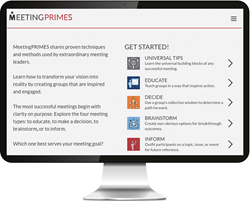 It is truly a gift back to those who fearlessly look to achieve results everyday
Washington, D.C. (PRWEB) December 05, 2016
Available today, MeetingPRIMES.com is an interactive website that shares techniques, tools, and methods that will put an end to unproductive meetings. The website provides users with straightforward tutorials on how to engage, motivate, and lead others in meetings using powerful, proven techniques.
MeetingPRIMES teaches users how to engage with groups differently and harness the power of the collective. The website's founders, Tara Carcillo and Pepper Bullock, developed the content through years of field-tested experience as consultants and meeting facilitators. Clients and friends repeatedly expressed concern that ineffective meetings were by far the biggest drain on their most valuable resource – time. Tara and Pepper ran the numbers and discovered that some clients spend 40-50% of their time in meetings. They saw the need for a resource that could eliminate the waste and teach people how to have meetings that actually produce the intended results. The result was the MeetingPRIMES website.
"This tool was generated by the partnerships we have built over decades at and through The Clearing," shared Tara Carcillo, President and CEO of The Clearing. "It is truly a gift back to those who fearlessly look to achieve results everyday and know they need powerful groups to realize their vision."
MeetingPRIMES is intended for all audiences; from top C-suite executives, to mid-level managers, to the next generation of rising leaders. These techniques are universal and can be applied to any situation in any industry. MeetingPRIMES is organized into 5 learning modules to create an intuitive user experience. The user selects the module based on the purpose of the meeting:
1. Educate – Teach groups in a way that inspires action.
2. Decide – Use a group's collective wisdom to determine a path forward.
3. Brainstorm – Break free of the status quo and challenge the team to think of creative, non-obvious options.
4. Inform – Share information and have a productive conversation on a topic, issue, or event for future reference.
5. Universal Tips – Learn the universal building blocks of any successful meeting.
"The tools and tips I've shared on MeetingPRIMES.com have given me an invaluable map for successfully hosting my meetings. Although I am an experienced meeting facilitator, I use my MeetingPRIMES checklist when preparing for any meeting," said Pepper Bullock, Founder of Safe Harbor Consulting.
Visit, meetingprimes.com today. It's available to anyone who wants to put an end to unproductive meetings, learn how to improve group dynamics, and enhance communication effectiveness.
The Clearing, Inc.
The Clearing, Inc. is a Washington, DC-based management consulting firm dedicated to helping our clients improve performance and achieve their mission through sustainable organizational transformation. We combine our own innovative thinking with our clients' existing organizational knowledge and expertise to develop comprehensive solutions that blend strategy and design with implementation.
Pepper Bullock
John "Pepper" Bullock is a thought leader in DESIGN EXECUTION which blends the non-obvious insights of Design Thinking and SMAART teaming to get results. Bullock created Breakthrough Outcomes an innovative approach to brainstorming. Bullock is a graduate of Georgetown University's Institute for Transformational Leadership and is a Facilitator Partner with ExperiencePoint, an award-winning experience learning company in Toronto, Canada.