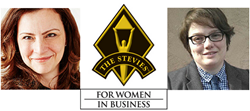 "Alex and Courtney have been instrumental in elevating DemandLab's status as a leader in technology-enabled revenue optimization."
(PRWEB) December 01, 2016
DemandLab was honored with two Stevie Awards in the 13th Annual Stevie Awards for Women in Business. Alex Stanton, Director of Client Services, won a Bronze Stevie Award for Female Executive of the Year and Courtney Grimes, Senior Consultant for Marketing, Automation, and CRM, won a Bronze Stevie Award for Employee of the Year – Business. These were the fourth and fifth Stevie Award wins for DemandLab and its team members.
The Stevie Awards for Women in Business are the world's top honors for female entrepreneurs, executives, employees and the organizations they run. All individuals and organizations worldwide are eligible to submit nominations – public and private, for-profit and non-profit, large and small. The 2016 awards received entries from 31 nations and territories.
More than 1,400 nominations from organizations of all sizes and in virtually every industry were submitted this year for consideration in more than 90 categories, including Entrepreneur of the Year, Executive of the Year, Company of the Year, Startup of the Year, Women Helping Women, and Women Run Workplace of the Year, among others.
Stanton's achievements included spearheading projects that increased staff efficiencies and optimized project delivery. Grimes, a two-time Marketo Champion, led the development of a process to align Marketo and Salesforce data to enable more effective tracking of leads, sales opportunities, and content performance.
"Alex and Courtney have been instrumental in elevating DemandLab's status as a leader in technology-enabled revenue optimization," said Rhoan Morgan, DemandLab co-founder and CEO, and a 2015 Stevie Award recipient. "We are proud of their achievements and honored to have people of their caliber on our team."
Stevie Award winners were selected by more than 160 professionals worldwide who participated in the judging process this year.
"Each year we think the quality of achievements portrayed in Stevie-winning nominations couldn't possibly get any better, and each year the amazing women who are recognized in this program prove us wrong," said Michael Gallagher, Stevie Awards founder and president. "We are thrilled and humbled to be able to recognize so many outstanding women in the Stevie Awards for Women in Business, and to share the stories of their achievement with the world."
Details about the Stevie Awards for Women in Business and the list of Stevie Award winners are available at http://www.StevieAwards.com/Women.
About DemandLab
DemandLab engages in the business of creating powerful lead lifecycle and customer relationship strategies, aligning business teams such as sales, marketing, IT, and finance, and growing revenues through advanced sales and marketing technologies and methodologies. With a focus on the innovative use of marketing automation, CRM platforms, and data analytics, DemandLab applies industry-proven best practices along with proprietary methodologies to optimize sales and marketing efforts and grow revenues. Within this wide realm of services DemandLab offers services including marketing automation campaign management, demand strategy, lead management and marketing optimization and effectiveness strategy and execution; data auditing and governance planning and execution, sales and marketing analytics and reporting; content strategy, creation and copywriting; graphic and digital design and coding services. Learn more about DemandLab at http://www.demandlab.com.
About The Stevie Awards
Stevie Awards are conferred in seven programs: the Asia-Pacific Stevie Awards, the German Stevie Awards, The American Business Awards, The International Business Awards, the Stevie Awards for Great Employers, the Stevie Awards for Women in Business and the Stevie Awards for Sales & Customer Service. Stevie Awards competitions receive more than 10,000 entries each year from organizations in more than 60 nations. Honoring organizations of all types and sizes and the people behind them, the Stevies recognize outstanding performances in the workplace worldwide. Learn more about the Stevie Awards at http://www.StevieAwards.com.