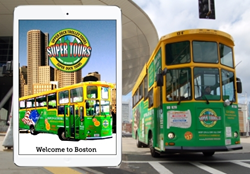 Creating content for a mobile device doesn't have to mean starting from scratch but it does mean ensuring that the tour meets certain basic mobile-friendly requirements.
(PRWEB) December 02, 2016
Action Data Systems Announces Launch of a Content Creation Service for Mobile App Tour Guides
Action Data Systems announces the launch of a new addition to their mobile app tour guide platform, ActionShow App: in-house content creation. The hardest part of any tour - whether for a museum, a historic house, a city, or any other cultural space - is sharing engaging content. It's easy to copy Wikipedia data; it takes work to be a storyteller. That's the service Action Data Systems now provides.
With the advent of mobile technology in cultural centers - mobile app tours, rentable tablets, and more - the "content question" takes on a new dimension. Is it enough to copy the audio player tour onto a rental tablet-based tour or a mobile app tour? Does the whole tour need to be scrapped and re-formatted for mobile? Where should museums and cultural sites draw the line? Action Data Systems' new in-house content creation service takes care of that issue.
Creating content for a mobile device doesn't have to mean starting from scratch but it does mean ensuring that the tour meets certain basic mobile-friendly requirements. By following these 5 rules, Action Data Systems creates successful and dynamic content for mobile app tours:
1. Just because it is true, doesn't mean it is interesting.
The underlying goal of every sentence in the tour should be to answer the question "why should someone care about this?" While this question is important when creating content for all kinds of tours, it is particularly important for mobile tours, whose millennial users are accustomed to quickly digestible concepts and have other resources (Google, Wikipedia, social media) at their fingertips.
Action Data Systems believes that the best way to approach this question when creating content is to tie its answer to an overarching theme. As visitors progress through the tour, they'll learn about the site through the lens of a single, interesting concept. This means that the objects at the site will not only have their own story, but also a story that connects them to an overarching theme. This helps generate a sense of cohesion throughout the tour, which leaves visitors with a satisfying sense of conclusion by the end of their time at the site.
2. Where's the emotional, human connection?
There's an old trope in marketing - put an image of a smiling human face next to a product and it will sell. It's a simple psychological trick - humans are drawn to what is familiar - that is doubly important in a mobile world, where distractions are a click away. In building content for a tour, Action Data Systems focuses on a human, interpersonal connection in every story, whether that story is about a building's architecture, the history of a certain type of art style, or the mechanical workings of an object. Generally, a story that includes a human element is subconsciously more appealing than one without.
Furthermore, if that human element is emotional - involving love, humor, tragedy, mystery - it creates a stronger connection between the visitor and the story. Action Data Systems believes that a visitor will remember that connection longer than any piece of trivia - names, dates - and its poignancy will guide their decision to return.
3. Embrace multimedia and build layered content.
Mobile tours can bring a site's stories "alive" with multimedia and layered content as integrated features of the tour. Action Data Systems builds content so that the main stops of the tour will only focus on what is important in the context -- bringing the "here and now" of the story to life with multimedia. The tour will direct visitors to look at certain physical features of an object or site using photos and videos as anchors, while generating a sense of oral dynamism with multiple narrators, interviews, and quotes. The narration will switch from past to present tense in order to draw the visitor into a virtual "reenactment" of the story, with photos, videos, and text supplements.
Additional content - which Action Data Systems may have deemed unsuitable for the overarching theme, applicable to only a niche group, or simply too long to listen to - can be accessed flexibly by the visitor, using layers. Visitors can "dive inside" stories that interest them, or skip around to objects/rooms that strike their fancy. They will pick and choose what to listen to and what to ignore. Visitors can rewind, fast-forward, and generally curate their own experience based on their preferences. Action Data Systems creates content by knowing that embracing mobile means embracing these features for a mobile app tour.
4. Cater to different levels of comfort with smartphones or apps.
Millennials may be the first group that comes to mind when thinking of mobile phones and apps, but they are hardly alone in their use. Site visitors of all ages, shapes, and tech-savvy will use a mobile app tour guide, so Action Data Systems designs its interface in a simple and universal manner. What is intuitive to a seasoned mobile app user (swiping right/left, pinching to zoom) is not intuitive to a tentative newcomer. But having to use a "Help" button is a sure indication of future problems -- unclear UI, disappointing UX. The best answer is to design a product that allows a range of users to interact freely with the app -- something as simple as ensuring the narration clarifies these questions before they're asked.
5. Create specialized tours.
Action Data Systems recognizes that visitors fall into a variety of categories for any site -- large groups, repeat visitors, families with small children, foreign language visitors… Docent-led tours can adapt dynamically to such a variety but are logistically limited; audio-players are scalable but have no flexibility whatsoever. Action Data Systems' mobile app tours are completely scalable and are designed to provide as much flexibility and customizability as possible. Repeat visitors may not want to take the standard highlights tour -- so Action Data Systems creates additional content tours like "Behind the Scenes" or a special exhibition. Seasonal visitors may want to hear about the spring flowers in the gardens or the Christmas decorations in a room -- Action Data Systems adds specialized tours that are only available for a limited time. A family with children may want to take a "Kid's Tour" or an international visitor may be interested in a foreign language tour option. Action Data Systems make all of these tours, in any number of languages, accessible from a mobile app or a rental tablet.
About Action Data Systems:
Action Data Systems is headquartered​​​ in Barrington, Rhode Island with a regional office in Mumbai India. Action​ ​​Data Systems ​helps museums, attractions and bus tour operators to create Apple and Android tour guide apps to increase tourist engagement, improve ratings & reviews and generate new revenue from mobile e​-​commerce. For more information, please visit http://www.actionshowapp.com