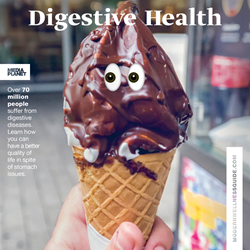 The "Digestive Health" campaign sheds light on the advancements and innovations being made in Gastroenterology
New York, NY (PRWEB) December 02, 2016
Mediaplanet's newest campaign, "Digestive Heath," hits newsstands today, featuring an inspirational interview of two ostomy patients, standing as living proof that attitude and determination can combine into the most remarkable achievements. Over 70 million people suffer from digestive diseases and issues that spike around the holidays. This campaign will offer patients a new-found hope, by seizing the opportunity to educate people on how to manage and treat these conditions to improve their overall quality of life.
The "Digestive Health" campaign sheds light on the advancements and innovations being made in Gastroenterology, which is bringing more effective and less invasive treatments to patients at a faster rate than ever before. Providing hope through cutting-edge technology and research, this campaign highlights how scientific initiatives can make for more efficient and personalized treatment nationwide.
The print component of "Digestive Health" is distributed within USA Today on December 2nd, with a circulation of approximately 250,000 copies and an estimated readership of 750,000. The digital component is distributed nationally through a vast social media strategy, and across a network of top news sites and partner outlets. To explore the digital version of the campaign, click here.
This campaign was made possible with the support of the American Gastroenterological Association, Society of American Gastrointestinal & Endoscopic Surgeons, Celiac Disease Foundation, Crohn's and Colitis Foundation of America, Danielle Walker, Mederi Therapeutics, Invendo Medical, Ovesco Endoscopy, 11 Health, Simple Mills, and many more.
About Mediaplanet
Mediaplanet is the leading independent publisher of content-marketing campaigns covering a variety of topics and industries. We turn consumer interest into action by providing readers with motivational editorial, pairing it with relevant advertisers and distributing it within top newspapers and online platforms around the world.