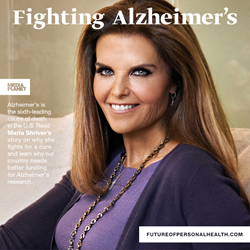 Alzheimer's is the sixth-leading cause of death in the U.S..
New York, NY (PRWEB) December 01, 2016
Helping to conclude National Alzheimer's Awareness Month, Mediaplanet today announces the launch of its new edition of "Fighting Alzheimer's." This campaign will advocate for increased funding in research to move this deadly disease forward, as well as increased education on how to better the lives of those living with Alzheimer's, their loved ones and their caregivers.
Alzheimer's is the sixth-leading cause of death in the U.S. Not only does this disease have devastating effects on the patient and his or her family, it's also the nation's most expensive condition to treat and care for. The average life expectancy of an Alzheimer's patient is around 8 years after symptoms start becoming noticeable to others. But there is the potential to increase the life expectancy with further research and development. Even so, there remains a noticeable lack of urgency from the government to focus on funding research for a cure, leaving patients and families continue to suffer through with little national support.
The print component of "Fighting Alzheimer's" is distributed within today's edition of USA Today in Chicago, Los Angeles, Minneapolis, New York and Washington DC/Baltimore markets, with a circulation of approximately 250,000 copies and an estimated readership of 750,000. The digital component is distributed nationally, through a vast social media strategy, and across a network of top news sites and partner outlets. To explore the digital version of the campaign, click here.
Long-time Alzheimer's activist Maria Shriver graces the cover of the print publication. Through an exclusive interview on the interior, Maria reveals that when she first got involved with Alzheimer's, the disease was hopeless. "Nobody knew what it was," says Shriver. "There was so much shame and fear. People were terrified." Since then, she has fought tirelessly to raise awareness and money to fight Alzheimer's. Her contributions include producing an Emmy-winning documentary series about the disease with HBO, producing the Oscar-winning movie "Still Alice," which starred Julianne Moore as a professor with early-onset Alzheimer's, and advocating for research on why more women than men get the disease.
Now, more than a decade later, Shriver says, "You can see renewed hope and excitement. Alzheimer's has gone from a place of invisibility to visibility." She also highlights her new initiative, Challenge 66, kicking off on Giving Day this past November 29th, encouraging everyone to get involved and be a part of the fight.
This campaign was made possible with the support of the Alzheimer's Association, Alzheimer's Speaks, CaringKind, National Institute on Aging (NIA), UsAgainstAlzheimer's, Allergan, Avanir Pharmaceuticals, Brookdale Senior Living, The Center for Information and Study on Clinical Research Participation (CISCRP), Neurotrack and vTv Therapeutics.
About Mediaplanet 
Mediaplanet is the leading independent publisher of content-marketing campaigns covering a variety of topics and industries. We turn consumer interest into action by providing readers with motivational editorial, pairing it with relevant advertisers and distributing it within top newspapers and online platforms around the world.