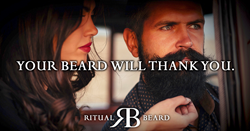 Long Island, New York (PRWEB) December 02, 2016
Ritual Beard has spent months researching and developing the best beard oil formulation, comprised of all natural, certified organic essential and carrier oils. With a focus on treating specific beard related issues, Ritual Beard has released three oils; one for growth, one for moisture and strength and one for skin irritation.
"A lot of men ditch the whole idea of growing a beard because of the initial itch and irritation. I wanted to help them surpass the discomfort by educating them on the benefits of beard oil and how it can really help the growing process. By creating Ritual Beard, our oils have helped customers and our team grow hair in patchy areas, soften their beards and alleviate any dandruff or dryness. But what really sets us apart from other brands is our amazing customer service. We take all feedback and recommendations into consideration and try to provide complete transparency when it comes to our products and what they do. Our bearded brothers [customers] are our friends, so we treat them that way!" says Joseph Elshazly, founder of Ritual Beard.
Each oil has a specific ingredient that activates its intended purpose. For example, Pine Barrens has been developed to promote healthy skin underneath the beard, which ultimately creates an optimal hair growing environment. With the key ingredients of tea tree oil and sweet almond oil, it effectively hydrates the skin and eliminates blemishes from forming. Bourbon Reserve has organic cedarwood and jojoba oils that deeply moisturize and strengthen beard hair. It is also their nut-free oil, one of the only ones on the market that can be used by those with nut allergies. Their top seller, Citrus Springs, has pure eucalyptus oil in it which helps increase circulation and encourages faster beard growth. Brushes, combs and balms are available as well.
If you're want to keep your beard looking and feeling fresh, then head over to their sleekly designed website to browse and learn about their products. You can shop Ritual Beard at http://www.RitualBeard.com or in a local barbershop near you.
Follow them on Facebook and Instagram