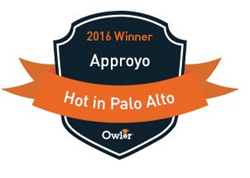 Palo Alto, CA (PRWEB) December 01, 2016
Approyo, a leading enterprise SAP HANA Solutions Provider, announced today it was named an Owler HOT in 2016 winner in Palo Alto.
Owler recognizes the top trending companies in cities around the world. They filtered through more than 15 million companies and picked 4,500 award winners across 600 cities worldwide. Recipients were chosen based on several different metrics, including number of followers on Owler, insights collected from our community, social media followers, and blog posts over the past year.
"We've sorted through database of millions of contributions from our community and landed on the top trending companies from around the world," said Jim Fowler, CEO at Owler. "Being Hot In 2016 is an accomplishment to be proud of."
"Approyo is proud to be on the "Hot in 2016" list from Owler," said Christopher Carter, CEO at Approyo. "This recognition caps off a great 2016 for Approyo in which we were recognized by Inc. magazine, which ranked Approyo NO. 120 on its 35th annual Inc. 5000 and recognized among the 20 Most Promising SAP Solution Providers 2016 by CIOReview.
About Approyo
Approyo is a global SAP HANA start up focus partner for products and services that include upgrades, comprehensive remote operations/managed services, consulting, hosting and implementations and cloud services. Approyo differentiates itself by offering scalable managed SAP HANA solutions for organizations of all size. Headquartered in Palo Alto, CA with partner offices around the world, Approyo has the capability to support global organizations and their applications.
For additional information e-mail us at info(at)Approyo(dot)com, call 404.448.1166, or visit us on the web at http://www.Approyo.com.
About Owler
Owler is the crowdsourced competitive intelligence platform that business professionals use to outsmart their competition, gain competitive insights, and uncover the latest industry news and alerts. Owler is powered by an active community of 800K business professionals that contribute unique business insights such as competitors, private company revenue, and CEO ratings. From startups all the way to large enterprises (including 96% of the Fortune 500), CEOs, salespeople, marketers, product managers, and all types of business professionals use Owler daily. Launched in 2014, and funded by Norwest Venture Partners and Trinity Ventures, Owler is headquartered in San Mateo, CA with offices in Coimbatore, India.