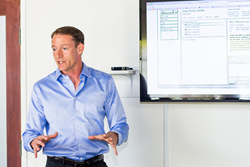 We've seen the power of intuitive software to increase government efficiency and effectiveness.
Washington, DC (PRWEB) December 01, 2016
iConstituent today announced Jeff Green as Chief Technology Officer, solidifying his leadership role at the growing technology company. Green is a founding member of the iConstituent and lives in Venice, CA.
"This fall, Jeff led a listening tour where we really stripped down our product and learned what our customers need to better connect people and government," said iConstituent CEO Zain Khan. "Jeff as CTO means that iConstituent will continue to lead through technical innovation. From early on, we've seen the power of intuitive software to increase government efficiency and effectiveness. Our customers save hundreds of hours a year on casework and correspondence."
Before joining iConstituent, Green was an e-commerce and online music pioneer, working on some of the first artists' websites, including a web store for Bad Religion.
Green said he chose a path in internet technologies because they level the playing field and allow you to create something unique for the world. He brings that same drive to his technology leadership at iConstituent. "There is no turning back, this is your family, the [product] your baby. That's always been my mentality," Green said. "You get an idea and you have to follow your idea."
Green has led technology evolution at iConstituent from its roots as an email newsletter software through development of a core Constituent Relationship Management solution for government officials and agencies. The company was the first to provide email newsletters to legislators on Capitol Hill and its integrated solutions include websites, constituent contact data services, telephone town halls, and hardware concierge services for Congressional offices. iConstituent recently announced new Email Threading features for its flagship CRM product, as well as social media analytics features with its eNewsletter Plus offering.
"Thousands of state, local and federal governments offices are in the process of modernizing their communications technologies," said Khan. "We're happy to partner with them to provide solid, scalable solutions that typically save each office thousands of dollars vs. legacy solutions and inexperienced vendors. With Jeff's steady leadership, we're more prepared than ever to partner with governments across the U.S. to help them connect with an always-online public."
About iConstituent: iConstituent connects people and government with great software. It brought the first e-newsletter to Congress in 2003, and provides CRM, email, telephone town hall, and other IT services to hundreds of government offices across the U.S.