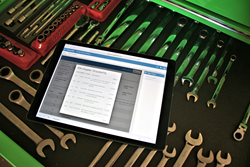 "Until now, commercial aircraft operators have been forced to build their own solutions, which meant that only large enterprises could benefit."
Atlanta, GA (PRWEB) December 01, 2016
SynapseMX announced today its participation in the GE Digital Alliance Program, the first initiative of its kind dedicated to growing the digital industrial ecosystem.
"We're excited to join the GE Digital Alliance Program, using its expertise with the Industrial Internet and our commercial aircraft operations background to further improve communication and productivity for maintenance teams," said Shane Ballman, SynapseMX founder and CEO. "Until now, commercial aircraft operators have been forced to build their own solutions, which meant that only large enterprises could benefit."
Aviation maintenance is still struggling to be brought into the modern day. 90% of commercial aircraft maintenance records are still done with paper, and, laid end-to-end, it's enough paper to circle the globe 25 times. Sifting through those paper records is challenging for organizations and translates to less-than-optimal maintenance operations and frustrating aircraft maintenance delays. SynapseMX was founded with the core mission to make it easier for humans to interact with other humans - especially around the communication and planning challenges facing commercial aviation today.
To do this, SynapseMX is providing aircraft operators the ability to sign-off maintenance electronically via mobile devices, manage and schedule maintenance through an easy-to-use interface, gain useful insights from their operational and historical data for more predictive maintenance, achieve real-time communication between team members with a smart notification system, as well as integrate with current software tools being used in organizations... And that is only the beginning of what SynapseMX is building to make aviation maintenance more productive.
Shane Ballman is no stranger to building revolutionary tools for airlines, and is responsible for helping AirTran Airways (acquired by Southwest Airlines in 2010) achieve operational efficiencies that are practically unmatched in the industry, in part because of software he built to better manage their maintenance operations. The drive to help airlines optimize their operations and improve the experience of both workers and customers is a passion that is rooted deeply in the ethos of SynapseMX.
Joining the GE Digital Alliance Program signifies SynapseMX's commitment to the future of technology in the aviation industry.
###
About SynapseMX
Founded in 2015, SynapseMX is a software provider of cloud-based solutions focused on delivering real time data and operational insights to modern maintenance teams. With SynapseMX, teams communicate better and can be more productive with a platform designed for the way work gets done today — in the field and on the move — to reduce business interruptions from maintenance activities. For more information, visit the company's website at synapsemx.com or follow on Twitter @gosynapse.