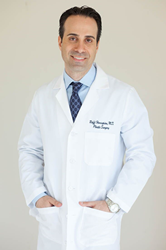 Again, it is such an honor to be named a top plastic surgeon in America
Beverly Hills, CA (PRWEB) December 02, 2016
Dr. Raffi Hovsepian, a leading plastic, aesthetic, and reconstructive surgeon in Beverly Hills, California, will be included in the 2016 "Guide to America's Top Plastic Surgeons" for seven consecutive years. The prestigious recognition is given to exceptional professionals based on the amalgamation of their education, experience, and professional associations.
One the most frequently honored surgeons in his region, Dr. Hovsepian has been awarded many times over for his skill, compassion, and innovation. He is among the few surgeons in his field to hold a triple board certification, as well as an indoctrination into the highly exclusive American Board of Medical Specialties. Due to his immense experience, Dr. Hovsepian is frequently the surgeon of choice for television programs and top publications seeking expert commentary.
"Again, it is such an honor to be named a top plastic surgeon in America," said Dr. Hovsepian. "I remember, I first received this recognition seven years ago and I was thrilled. Today, it feels equally important, mainly because it proves I have been consistent in my dedication to my patients and my field, and that is something I care a great deal about."
Each year, the Consumers' Research Council of America compiles their unbiased picks for the top plastic surgeons in the country. Using a point value system, the awarded professionals are selected purely on their professional and academic experience and achievements. Dr. Hovsepian has had the rare honor of making the list for seven straight years.
Additional honors received by Dr. Hovsepian have included Los Angeles Magazine Top Doctor, America's Top Doctor, 15 Most Popular Hollywood Plastic Surgeons, The "Patient Choice" Physician Award, Compassionate Doctor Award, Top 10 Plastic Surgeons in L.A., and Super Doctors of Southern California. He has been featured on The Dr. Oz Show, Entertainment Tonight, and Fox News.
The latest edition of the "Guide to America's Top Plastic Surgeons" will be published in the 2016 Consumer Guide.
For more information or to schedule an appointment with Dr. Hovsepian, please visit: http://www.RHMD.com. 
###