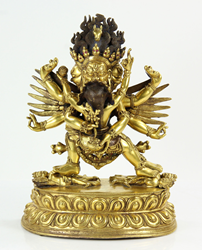 Beverly, Massachusetts (PRWEB) December 02, 2016
Kaminski Auctions announces it's Annual Holiday Auction to be held Sunday, December 11, 2016, featuring a two session sale commencing with Fine Asian Art and Antiques in Session One starting at 10:00am EST followed by Jewelry and Fine Art in Session Two.
Highlights of the Asian sale include an 18th century Sino-Tibetan gilt-bronze figure of Yamantaka with three faces, six arms and four feet, holding Vajravetali on a double-lotus pedestal. The bronze measures 11 7/8 inches high by 8 ½ inches wide and is valued at $20,000-$30,000. It was previously from the estate of Peter L. Rosenberg, then to a New Hampshire private collector.
From the collection of Dr. Anthony Newton, of Massachusetts come several important pieces in the sale including a Chinese Yuhuchun porcelain vase from the Qianlong period. Decorated with peonies, bamboo and a rockery motif in enamel on famille rose it is displayed on its original wood stand and measures 4 ½ inches high and is estimated at $20,000-$30,000. A late 19th century Chinese redwood showcase (Da Bao Ge) cabinet with open fret work carved with leaves and flowers is estimated at $2,000-$3,000, while a Qianlong famille verte porcelain jar from the Chinese Qing dynasty decorated with green flying dragons and the eight Buddhist treasure symbols having a Qing Qianlong Reign mark on the base and original wooden cover and stand is valued at $3,000-$5,000.
A Chinese five-claw dragon porcelain charger in dark blue and green with a blue Chu Xiu Gong mark on base displayed on a blue enameled gilt bronze stand is valued at $5,000-$10,000. It bears an old label marked " #32 Chu Hsiu Kung made for the empress dowager, from Peking Palace John Wharton Collection" and is from a Massachusetts estate.
From a New Hampshire private collector comes a pair of Kangxi period famille rose temple jars and a large Chinese gilt famille rose porcelain dragon plaque decorated with a copper-red dragons dancing amidst flaming pearls and ruyi clouds and surrounded by the eight Buddhist treasure symbols. The Chinese Qing dynasty porcelains are estimated at $4,000-$6,000, while the 23 inch diameter plaque is estimated at $3,000-$5,000.
Leading Session Two are two exceptional Frank W. Benson (American, 1862-1951 watercolors. "A Good Day for Ducks," is signed lower left, with a Pennsylvania Academy of Fine Arts tag and personal wish on a card verso, while "Ipswich Marshes," is framed under glass with a Museum of Fine Arts exhibition tag. Both are conservatively estimated at $5,000-$10,000.
Sterling silver features in the sale with a Tiffany & Co. Makers sterling silver six-piece tea and coffee set and sterling tray valued at $8,000-$12,000 and several important Russian items including a Russian enameled silver egg with cabochon ruby stones, a Grand Russian lock box of .84 silver having a boar finial and animal form legs with approximately 23.6 oz. troy weight of silver and a Russian Faberge style silver and enamel egg on a bird-foot stand.
There is a large and varied selection of jewelry and smalls on offer including a pair of 18 carat gold Elizabeth Locke earrings, Seaman Schepps 14 carat gold Turbo shell and ruby clip earrings, a South Sea pearl ring, diamond rings, Bohemian glass decanters and a large offering of bronzes in the sale.
Preview for the auction takes place Thursday-Saturday, December 8-10, 2016 from 10:00 am-5:00 pm and day of sale at 8:00am at the Kaminski Auction gallery at 117 Elliott Street, Rt.62, Beverly, Massachusetts. Preview is open all day while the auction is live. For more information go to http://www.kaminskiauctions.com and sign up to bid with KaminskiLIVE.