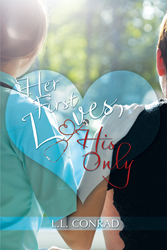 TORONTO (PRWEB) December 05, 2016
L.L. Conrad was compelled to write "Her First Loves, His Only," after discovering that many of the erotic novels she read didn't feature relatable life scenarios, which inspired to fill the gap in the erotic genre.
"Her First Loves, His Only," the first novel in a trilogy, chronicles the personal growth and sexual exploration of Karley Stevens as she experiences the recovery and effects of traumatic life experiences, independence in intimate relationships, and the art of maturing with age and wisdom.
Through Karley's journey, readers are exposed to topics of mental health and sexual abuse. Conrad also touches upon the natural human instinct of sexual desires and pleasures that society finds off limits and which people are reluctant to discuss in their everyday lives.
"These topics such as sexual assault and human sexuality, aren't talked about in our typical conversations, yet they occur and are more common than one may realize," Conrad said. "My novel expresses how erotic novels can serve as a platform for discussing society's more difficult subjects, with grace."
In "Her First Loves, His Only," readers will be left clamoring for the next novel while following Conrad as she continues to push the genre's boundaries.
"Her First Loves, His Only"
By: L.L. Conrad
ISBN: 978-1-4834-4921-0 (sc); 978-1-4834-4920-3 (e)
Available at the Lulu Publishing Online Bookstore and Amazon
About the author
Louise Loraine Conrad is a retired registered nurse and procurement expert. In her spare time, Conrad reads and writes extensively, often writing a manuscript every five weeks. She lives in Ontario, Canada with her husband. For more information about the author and her book, please visit: http://www.llconrad.com/
# # #
Review Copies & Interview Requests:
LAVIDGE – Phoenix
Maggie Driver
480-998-2600 x 584
mdriver(at)lavidge(dot)com
General Inquiries
LAVIDGE – Phoenix
Courtney Coombes
480-998-2600 x 612
ccoombes(at)lavidge(dot)com