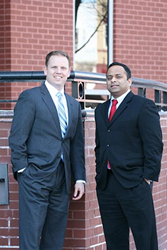 Noblesville, Indiana (PRWEB) December 01, 2016
The Hamilton County-based law firm of Massillamany & Jeter LLP announced today that they have been selected to provide contract legal services to Hamilton County Superior Court 2. The work will focus primarily on representing indigent defendants in Court 2 and pursuing appeals on behalf of similarly situated individuals. The 12-month contract will take effect on January 1. "We are honored that the Court would trust us with this important matter," said firm Partner Mario Massillamany.
Massillamany indicated the firm wanted to continue expanding its influence throughout Hamilton County, but found the best way to do so was by focusing on what is in front of you. "We have found that our presence throughout the County increases on its own if we simply focus on providing the highest level of legal service to our clients," Massillamany added.
Massillamany & Jeter LLP is a full-service law firm based in Hamilton County but serving the entire State of Indiana. The firm focuses its practice in the areas of personal injury, criminal defense, corporate law, civil litigation, family law, estate planning, appeals and government services. The Firm has offices in Fishers, Carmel, Noblesville, Plainfield, Greenwood, and Lawrence.
For more information, please visit http://www.mjattorneys.com or visit us on social media:
Facebook: http://www.facebook.com/mjattorneys
Twitter: @massjeter