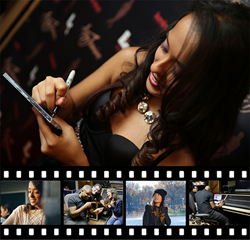 I'm excited and appreciative to be getting the collaborations and ongoing support to continue doing what I love to do. ~Airy Jeanine
Franklin Lakes, NJ (PRWEB) December 05, 2016
Airy Jeanine is putting in time in the recording studio teaming up on new songs with prolific Songwriter-Producer Corey "Chorus" Gibson who has worked on hits by mega-artists like Rihanna, Demi Lovato, Akon, Jamie Foxx, Kelly Rowland, Ciara, Brandy…just to name a few. https://twitter.com/coreychorus
The sessions taking place in North Jersey's Cybertime Studios have already produced standout songs that have the earmarks of the next big hits by the multi-talented breakout entertainer. The strategic collaboration is another move to raise the music production ante as CoreyChorus aims to deliver songs to provide springboards from award nominations and win successes of her most recent song "Do You". From that momentum, they are striving to sustain an upward trajectory with his newly signed participating involvement in her music project for the Kmina Entertainment label.
Coming off over half the year filled with weeks that saw multiple accolades including, #1 and Top 10 charting positions on Independent Music Network, New Music Weekly, National Radio Hits, and FMQB respectively, she was poised for much more. Rising to #27 on the Billboard Top 40 Indicator charts, Airy Jeanine achieved the highest position for an Independent artist in over a year. She went on to further making an impact, climbing in the Top 60 on the Mediabase Top 100 charts.
"Do You" is receiving further far-reaching exposure with spins on Retail Radio/What's in Store, being heard nationwide in stores such as: Best Buy, Wal-Mart, Staples, Athlete's Foot, Hooters, Carmax…and more!
Connecting with fans via social media, she remains on a mission to make a positive name for herself as she continues to make music that will appeal to consumers all over. All official versions of Airy Jeanine songs and merchandise are available on her website. Additionally, her music is accessible via downloads from all digital retailers, including iTunes, Amazon, Google Play, etc.
Since her debut in the entertainment arena, she is consistently making the right moves toward a bigger impact across the board, worthy of even more widespread acclaim.
About Kmina Entertainment
Based in Franklin Lakes, NJ, the company is a start-up entertainment enterprise that produces, promotes, and markets music, video and related multimedia projects. It is creating a solid foundation for its artist to grow in a focused long-term environment.