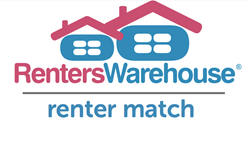 ATLANTA, GA (PRWEB) December 01, 2016
Renters Warehouse has introduced a new, free service created to save time and money for apartment seekers in the Atlanta market.
Renter Match is a personalized service that aims to match potential apartment tenants with their ideal new home, based on each customer's individual needs, including location, price, size, accessibility, pets and much more.
"People are looking for the convenience Renter Match can provide in researching and identifying suitable matches for their particular need – price point, school district, proximity to work, specific amenities and more – without having to do the legwork or spend unnecessary time randomly driving to properties," explains Courtenay Dutton, COO at Renters Warehouse Atlanta.
Renter Match provides a chance for apartment seekers to sit down with a local market expert to discuss their needs and wants in an apartment. Once all criteria is provided by the customer, Renters Warehouse staff aims to provide each client with information and pricing for several apartment options that meet their needs. Renter Match eliminates much of the effort and research involved in trying to find the perfect home.
"With most properties now on daily pricing systems, Renter Match is in touch with properties daily and will keep renters updated on price changes and more importantly, move-in specials being offered, saving renters thousands of dollars every month," Courtenay says.
In addition to offering prospective tenants a completely free service, Renter Match also fills a need for apartment management companies by helping them identify ideal tenants. The service currently covers much of the Atlanta area, with a focus currently on Buckhead, Midtown, Downtown and areas north of the city including Dunwoody, Sandy Springs and Brookhaven. More than 20 management companies with over 150 apartment communities in the region are listing their apartments on Renter Match.
"The Atlanta apartment market is growing and building at a very accelerated rate and these communities need to meet occupancy rate minimums as quickly as possible upon completion to stay competitive with other properties in the market," explains Courtenay.
Renters Warehouse Atlanta is continuing to grow the service by developing relationships with more properties in areas around the region. They are also seeking to foster potential co-branding and marketing opportunities for other service provider businesses that could complement Renter Match.
Renters Warehouse is one of the largest and most awarded residential property management companies in the U.S., managing more than 17,000 homes for over 12,000 investors across the country, and about $3 billion worth of residential real estate. The company is investing behind its new Portfolio Services Division that uniquely serves larger, mid- to institutional-level real estate investors with both centralized services and local market expertise and staff.
Renters Warehouse exists to help homeowners and investors create wealth and financial freedom through Rent Estate™. To learn more about Renters Warehouse or to find out how much your home will rent for, visit http://www.renterswarehouse.com today!
-30-
About Renters Warehouse
Renters Warehouse is one of the fastest growing and highest reviewed residential property management companies in America, and the largest in Minnesota. Backed by growth equity investor and majority stakeholder Northern Pacific Group, and under the leadership of President and CEO Kevin Ortner, Renters Warehouse now manages more than $3 billion in residential real estate, servicing 12,000+ investors across 17,000+ residential homes in 32 markets and 18 states. NPG Managing Partner Scott Honour, who in 1999 was a founder of YapStone, a leading online rental property payment service provider, serves as Chairman. Renters Warehouse expertly serves everyday single-property homeowners as well as real estate investors. In 2015, the company officially trademarked the term Rent Estate™ to redefine the entire SFR (Single Family Rental) industry as more traditional real estate gives way to this new lucrative asset. Through their dedicated Portfolio Services Division led by Chief Investment Officer Anthony Cazazian, the company also brings professional, scalable and efficient single property management solutions to investment portfolios with both centralized services and local market expertise and staff. Not only has Renters Warehouse received the prestigious honor of being included on the Inc. 500 | 5000 list of fastest-growing privately held companies in America seven consecutive years in a row, it was also named one of the "Best Places to Work" in Minnesota (where they are headquartered) by the Minneapolis St. Paul Business Journal in 2010, 2011, 2012, 2014, 2015 and 2016. The company was also honored as a best place to work in Arizona (a centralized corporate services center) by the Phoenix Business Journal in 2013 and 2014, and achieved a spot on the prestigious 2016 Top Companies to Work for in AZ list. Nationwide, Renters Warehouse has been honored as one of America's "Best Places to Work" in 2012, 2014, 2015 and 2016 by Outside Magazine. Recognized as pioneers in real estate, business management and innovation, Renters Warehouse has been awarded 22 Business Stevie Awards both internationally and stateside. In 2016, Morningstar Credit Ratings, LLC, a nationally recognized statistical rating organization (NRSRO) offering a wide array of services including operational risk assessments, assigned its MOR RV2 residential-vendor ranking to Renters Warehouse as a residential property manager, indicating that the company demonstrates proficiency in managing key areas of operational risk.