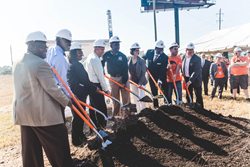 "We're delighted to see HostDime is expanding its world headquarters in Orange County and creating high value, high wage jobs in our region," said Orange County Mayor Teresa Jacobs.
Orlando, Florida (PRWEB) December 02, 2016
On November 16, HostDime.com, Inc., a global leader in data center infrastructure, broke ground on a new data center facility in Orlando, Florida. The facility was announced a year ago. The company has released its groundbreaking event video and final renderings.
Dennis Henry, Vice President of Operations for HostDime, emceed the speaker portion of the groundbreaking event. Speakers included Ray Acosta, Lead Architect of Baker Barrios Architects, Inc., Carlos Barrios, Founding Partner of Baker Barrios Architects, Inc., Eddie Cole, Mayor of the Town of Eatonville, Bryan Nelson, Orange County Commissioner, Miguel Torres, Vice President of Data Center Operations for HostDime, David Vivar, Vice President of Global Engineering for HostDime, Nancy Robinson, Vice Chairman of Orange County Public Schools, and Manny Vivar, CEO & Founder of HostDime.
The groundbreaking is the first step in constructing a seven story world-class data center and corporate office for HostDime.com, Inc. Founded in 2003, HostDime has been part of the Central Florida community since its inception and currently employs 120 staff locally. Many businesses around the world rely on HostDime's infrastructure to locate their data in the cloud.
"We're delighted to see HostDime is expanding its world headquarters in Orange County and creating high value, high wage jobs in our region," said Orange County Mayor Teresa Jacobs. "Thanks to our strong workforce, our expanding high-tech assets and robust, innovation-driven economy, Orange County provides the ideal location for their operations."
The campus style setting of the new building and surrounding areas will be an anchor tenant for what will be the latest beacon of growth for the area and along the I-4 corridor in the Orlando Metro area. The site is located less than half a mile from Interstate 4 at 1000 Wymore Road. At capacity, the facility will be able to employ 200 employees.
The new data center facility will be one-of-a-kind in the state with some key points:
Client Amenities:
Orlando-based Baker Barrios Architects, Inc. have designed the state-of-the-art facility in a contemporary style. The seven-story facility includes space for all of HostDime's 130 U.S.-based employees and three floors of world-class data center space. In addition, the space will focus on HostDime's client base. Clients can take advantage of on-site executive suites for overnight visits, including full bathrooms, showers, and full-sized beds, which HostDime believes to be an industry first.
Clients also have access to private client cage space, private mini data center room, on-demand client offices, and a mix of amenities that includes ultra-fast 10G internet access. The ability to stay within the data center will allow clients to save the time and expense of finding lodging in town, as well as immediate access to their equipment during their stay. The facility will also feature a 36-foot-high warehouse storage area that clients can use at no charge for temporary storage.
Network:
This modern age data center facility is designed to be a major peering/connection HUB for networks in the Southeastern United States and for South American companies. The facility is being engineered to meet and exceed requirements for some of the most widely known certifications such as HIPPA, PCI, SOC 2, and FISMA. The network is being designed to support over 300 gigabits of network connectivity. There will also be various dark fiber connectivity options between this new facility and all the major facilities in Miami, so HostDime's new facility will be a great business continuity and disaster recovery site for many South Florida businesses. HostDime's current network is globally recognized as one of the fastest networks in the United States that routes to all of South America, and this new facility will adopt this same performance.
The new category 5 hurricane-rated facility will feature space for over 35,000 servers, a dozen or more Tier 1 bandwidth providers connecting in 3 full-sized meet me rooms, full Tier 4 level redundancy, and in-line hardware-based Distributed Denial of Service (DDoS) Attack Protection. The meet me rooms will be home to major telecom and fiber providers such as Level 3/TW Telecom, Summit Broadband, Cogent Communications, Zayo, Tower Cloud, FPL FiberNet, Sprint, T-Mobile, Brighthouse Networks/Spectrum, CenturyLink, and Verizon. HostDime's new facility will be one of the most well-connected data centers in Florida. As the Internet continues to evolve and penetrate globally, the need for networks to interconnect will become more adopted. Companies like Netflix that demand high capacity bandwidth will want to connect to major hubs in areas like Central Florida. This facility will be the meeting point for these needs.
Power:
A unique, three-tier electrical power design will allow the facility to sustain two consecutive system failures and still be operational, making the standard N+1 redundancy a thing of the past. At its peak, the facility will also have over 10 megawatts of electric power capacity from Duke Energy. Backup generators will contain enough reserve fuel to run one week at 80% load without any commercial power available. At full capacity, the facility is designed to support 8MW of fully redundant power. Rooftops will feature solar panels in keeping with HostDime's green initiatives; up to 25% of the facility will be powered by the sun.
Security:
In addition, HostDime will utilize the latest in security and protection for the facility itself, including facial recognition access control, over one hundred 360 degree security cameras throughout the building and site, man-trap doors, and car-trap access to enter and leave the facility. The full perimeter of the site will be gated with 24/7 security personnel who will monitor the facility. HostDime will be using camera-equipped drones for automated exterior monitoring of the facility campus perimeter.
The 88,000 square foot structure will be fully owned, operated, and occupied by HostDime. The facility is projected to be completed in 2018.
---
HostDime.com, Inc. is a global data center company offering an array of cloud products which include managed services for scalable cloud storage, dedicated servers, VPS (Virtual Private Servers), and colocation. HostDime.com owns and operates data centers in Orlando, Florida as well as Mexico and Brazil, with network facilities in Colombia, Hong Kong, India, the United Kingdom, and the Netherlands.
HostDime.com, Inc. was founded and incorporated in Orlando in 2003 with over 250 global employees in seven countries. Presently ranked as one of the most reliable enterprise data centers in Southeastern USA, its network powers over 3,000,000 applications online for its 30,000+ active global client base.