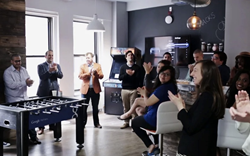 Our employees work hard for our clients, so we work hard to make this a great place to be for them.
New York, NY (PRWEB) December 02, 2016
Path Interactive, a New York City-based digital marketing agency founded in 2006, has been named the #3 Best Place to Work in 2016 by Advertising Age. Path Interactive was among 50 companies selected nationwide for this prestigious list, and was selected based on criteria such as leadership, employee role satisfaction, workplace environment, pay and benefits, training & development, and more.
The Ad Age Best Places to Work survey and awards program identifies, recognizes and honors the best employers in the agency, ad tech, media company or marketing division of a brand. Determined through feedback from multiple surveys, Path Interactive's prominent place on this year's list was influenced in part by policies such as unlimited vacation, no-deductible health insurance, generous employee wellness programs, regular office festivities, and profit-sharing recognition programs.
"Our employees work hard for our clients, so we work hard to make this a great place to be for them," says Michael Coppola, CEO and co-Founder of Path Interactive. "One of the most important ways we keep our staff engaged is by empowering them with true responsibility, ownership and trust. We really believe a challenging mission along with flexible time off policies enables our staff to deliver great work they're proud of."
These initiatives have also paid off when it comes to talent acquisition and retention. Also named for the second time as one of Crain's Best Places to Work in NYC this year, Path Interactive continues to maintain impressive employee tenure with very low turnover rates.
"We put a strong emphasis on training, mentorship and development for all our employees," says Michael Candullo, COO and co-Founder of Path Interactive. "Path is a culture that we are incredibly proud of as it empowers employees at all levels, promotes true collaboration and rewards all employees. We are truly one. It's important to us that that our talent stays with us for the long haul – which is why we are committed to making this a truly great place to work."
Also named last year to Inc. Magazine's list of 5000 Fastest Growing Private Companies in the U.S., Path Interactive has experienced consistent growth in a highly competitive digital marketing service industry. The co-founders credit their staff's dedication, engagement and leadership in helping to drive this growth year over year.
The 2016 Best Places to Work list is a joint effort of Advertising Age and Best Companies Group. Best Companies Group is dedicated to establishing programs to identify and recognize workplaces that nurture a superior level of employee satisfaction and engagement. Companies from across the United States participated in the two-part survey process. The first garnered information about employer offerings, and the second was an employee survey to measure the workplace experience. The combined scores determined the top companies and the final ranking.
See the full 2016 list of Ad Age's Best Places to Work here: http://adage.com/article/news/ad-age-s-places-work-2016/306695/
About Path Interactive:
Path Interactive is a search-first digital marketing agency headquartered in NYC's Flatiron District. Delivering results-oriented digital campaigns, Path Interactive exercises deep expertise in a full suite of results-oriented marketing services including PPC management, SEO, social media and display/digital media advertising. Path Interactive's client list includes well-known brands such as Zagat, Time Inc., WWE, Carmex, Jackson Hewitt, and the American Management Association.